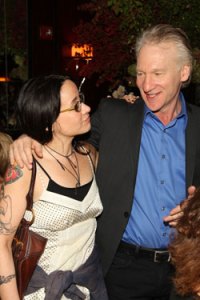 "I'm carrying Sarah Palin's baby!" the actress Caroline Rhea was telling guests while rubbing her pregnant belly at a lunch for comedian Bill Maher's new documentary, Religulous, at Brasserie Ruhlmann on Monday, Sept. 29.
The film, the title of which combines the words "religion" and "ridiculous," is a satirical take on various faiths, directed by Larry Charles, better known for his work on Seinfeld, Curb Your Enthusiasm and Borat: Cultural Learnings of America for Make Benefit Glorious Nation of Kazakhstan.
"I thought it was very instructive," said The View host Joy Behar. "I grew up Catholic like Bill—communion, confirmation, the whole thing—and even if you're a religious person, you watch this and you think, 'I have to question a few things.'"
Naturally, the conversation turned to the Republican vice presidential nominee. (One guest nearby was a wearing a "Believers for Obama" pin.)
"I don't want an evangelical creationist running the country. It's too close to Osama bin Laden," Ms. Behar said of Ms. Palin.
"I just think we need to give her more time on the air," said the actress Kathleen Turner.
"Well, I've been calling on my show for her to go on Meet the Press at the very least—one hour, commercial-free. Let's hear what she has to say," said Ms. Behar.
"I think she'll shoot herself in the foot," said Ms. Turner.
"There are a lot of people that are in some kind of denial about her," said Ms. Behar. "That's ridiculous. You don't trade in one vagina for another."
Nearby, actress and comedian Janeane Garofalo was sitting down at Mr. Maher's lunch table, looking as though she'd stepped off the set of her 1994 movie Reality Bites—layered tank tops, dark wavy hair, kitten glasses, tattoos exposed.
"I'm an atheist. I used to say agnostic but then I realized that I only said that out of fear," she told the Transom. "I just thought it wasn't fair to say 'just in case there is a God.' If I'm wrong, I'd rather be wrong all the way rather than claim to be agnostic to save my own ass." Ms. Garofalo said she grew up in a strict conservative household and was a member of the Catholic Youth Organization until she was in college.
"It's difficult to bring faith into Washington because it's not debatable," she continued. "If it was the religion of Martin Luther King or Jimmy Carter, that would be nice. They were nice about it."
Seated at Ms. Garofalo's right was Mr. Maher's college buddy, hotelier André Balazs. (The two attended Cornell University in the '70s.)
Unlike the other guests, Mr. Balazs couldn't relate to growing up in a religious household. "My parents were both scientists and academicians, so I grew up in an agnostic household," he said. "And I am thankful for that." 
ialeksander@observer.com