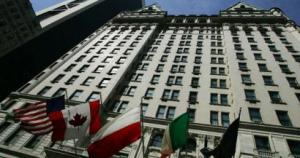 Jurgen Friedrich, the founder of retailer Esprit Holdings' European operations, wants to flip his Plaza condo for $30 million more than he bought it for in 2007. He's put the 4,500-square-foot, fifth-floor unit on the market for $55 million, according to the Wall Street Journal.
My colleague Max Abelson broke the news in July that Mr. Friedrich was renting the place, dubbed the Astor Suite, for $75,000 monthly (he's apparently never spent a night there). The listing for the rental delightfully touts the suite's lineage: "Frank Sinatra, The Beetles [sic], and Aristotle and Jackie Onasis [sic] were all there."
You stay classy, New York.