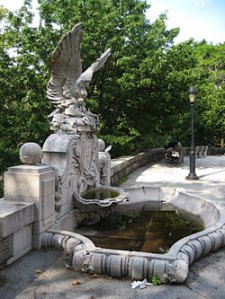 My garden in Riverside Park is about to be upgraded. With Sarah Palin sending me and everyone I know into a deep and angry funk, good news about my own little piece of the planet has given me reason to hope again: not the macro change-we-can-believe-in kind, but rather the micro soil-tilling kind. My suffering plants will rise anew, thanks to the introduction of a life-affirming water spigot.
Above the massive schist retaining wall that serves as a backdrop to my garden, the broken and litter-strewn Hamilton Fountain—which a century ago provided water for horses as they paraded up the new and sinuous Riverside Drive—is about to go through rehab. Named for Robert Ray Hamilton, a Chelsea real estate developer who "married unfortunately" but had family connections (namely ten-spot Alexander), the baroque marble fountain was designed by architectural gods Warren & Wetmore of Grand Central fame. A few years ago, the co-op at 36 Riverside Drive across the street ran a hose to the fountain and stocked it with water lilies and other aquatic oxygenators. It quickly became the recipient of no-longer-loved neighborhood goldfish. ("We can visit them every day!" I told my girls back when they were in grade school.) But these days, the majestic eagle that tops it has a broken beak, the decorative catch basin is filled only with trash, the asphalt plaza is riddled with deep fissures and the Robert Moses-era benches mostly serve as way stations for the homeless.
Now, not only will the fountain be restored, but the surrounding plaza, which provides an elaborate entrance to my own garden below, will be repaved with hexagonal blocks. Four new American elms will be planted and the concrete benches replaced with more retro-looking cast-iron hoof benches (named for their petite metal feet). James J. Dowell, president of the Riverside Park Fund, thinks the restoration has "huge potential" and will offer a "grace note" to the park, which has only one other fountain in its Olmsted-Vaux-Moses-designed 330-acre ribbon: the fireman's sarcophagus at 100th Street (which can't hold a candle to the dolphin-head-spouting, clam-shell and coat-of-arms-encrusted extravaganza at 76th). Margaret Bracken, the landscape architect for the Parks Department project, said the restoration will show the "beautiful layering of Riverside Park's unique history": the 1880s Olmsted-designed overlook; the "City Beautiful" movement, with the turn-of-the-century monument; and the 1937 stairway leading into the park, courtesy of Moses.
All this, of course, puts tremendous pressure on my own plot, as no doubt people will be flocking to the new attraction, and will descend the graceful curved stairs through my garden: admiring my hosta collection, impressed by the leafy waves of Solomon's seal, thrilled by the purple haze of my Russian sage. All thanks to the new plumbing and Robert Ray Hamilton, dead since 1890 but soon to be a player again in New York real estate.
The entire privately funded project will cost approximately $150,000, including the establishment of a maintenance endowment of $25,000. A neighborhood family has issued a challenge that if $75,000 is raised, they will match it; for more information, go to http://www.riversideparkfund.org or write Riverside Park Fund, 475 Riverside Drive, Suite 455, New York, NY 10115.
nbutkus@observer.com