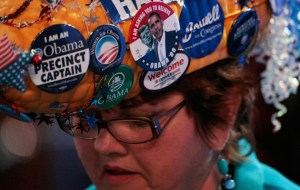 Barack Obama supporters are being warned not to wear Obama buttons and T-shirts to the polls for fear of being turned away, according to a story on NYC News Service, the CUNY outlet.
From the story:
With the election just over a month away, the law is suddenly gaining notice: an email begging potential Obama voters to "PLEASE, PLEASE, PLEASE" leave T-shirts and buttons home on Election Day is circulating on the Internet – spurring worried calls and emails to state election officials. The New York Civil Liberties Union plans – for the first time – to include a similar warning in its voter information materials.
[skip]
"No one will be thrown in jail over a shirt at the polls," said state Board of Elections spokesman Bob Brehm, whose office has been bombarded by calls and emails from worried voters.
But Brehm noted that anyone wearing a campaign button or T-shirt will be asked to remove the item.
[skip]
Palyn Hung, a NYCLU staff attorney, said her group is including warnings about the law on its voters' rights cards.
"We're not saying you're absolutely prohibited (from wearing campaign paraphernalia), but we're advising people that they might not be allowed to go in" to the polls, she said.