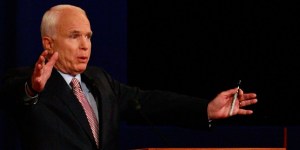 OXFORD, Miss.—It was hours before Friday night's debate at the University of Mississippi on September 26 and rows of reporters in a hangar-size white press tent were typing the background and context graphs of their stories. Dozens of flat-screen televisions in front of them counted down the hours and seconds to the debate between Barack Obama and John McCain. University volunteers circulated, making sure each desk space had free Anheuser Busch notepads ("About one in seven Anheuser-Busch beers in the United States is expected to be brewed using renewable fuel by the end of 2009," was printed behind the cover) and free red, white and blue Anheuser Busch pens. ("Know When To Say When," was printed below the point.)
The McCain traveling press sat in a row behind the Obama traveling press. More than three dozen makeshift television studios, each separated from the other by black curtains, lined the side of the tent facing the actual hall where the candidates would debate. They looked like dressing rooms, and inside them, Republican and Democratic surrogates tried on talking points.
In the largest curtained pen, next to the entrance, John Kerry, senator of Massachusetts, could be seen through the black gauze saying, "I think tonight the expectations are frankly high for John McCain. This is his playing field." That parroted, almost verbatim, a memo sent out by the Obama campaign earlier in the day, which was approved by David Plouffe, the Obama campaign manager, who sat to Kerry's left, waiting to go on air, listening with his hands folded on his lap, his face, as always, as still and expressionless as a lake. To Plouffe's left, Bill Richardson, the governor of New Mexico, looked over at Kerry, scratched his beard and played with his phone.
News of a separate dinner and beer tent, sponsored by Anheuser Busch, led to the formation of long lines of reporters waiting to fill their plates with ribs, brisket, breaded corn, beans and mini-pecan pies catered by the Memphis barbeque restaurant Rendezvous. A lot of the photographers drank beer, too.
At 7:27 p.m., Obama walked in with his wife, who wore a white patterned dress and heels. Television reporters watching from a curb across the street pointed their cameras. Some debate volunteers who had mixed in with the press cheered "wooo" and one shouted "you kick ass, Obama." The candidate looked over but didn't wave.
McCain and his wife, who was dressed in red, arrived at 7:46. They walked in quickly. No one cheered.
Finally, with all the reporters in their places, Jim Lehrer made his way out to the stage to introduce the candidates and preemptively scold the crowd for any cheering, ringing cell phones or misbehavior. The two candidates walked to the center of the red carpeted stage, wearing identical blue suits. They shook hands and took their places at the podiums, where they debated for an hour and half.
No one clearly won. No one clearly lost. But it fell to an army of surrogates to convince reporters otherwise.
Within minutes of the debate's conclusion, representatives of the campaigns marched into the front of the hangar under big placards. It looked like a parade. The Obama campaign held narrow blue signs that said Axelrod, Rice, Plouffe or Craig. The yellow McCain signs looked like "McCain-Palin" posters with the names Schmidt, Barbour and Bounds.
A large cluster of reporters formed around Steve Schmidt, McCain's chief strategist and the architect of his brass-knuckles campaign strategy.
"Look, I think that when you lose the substance of a debate, you go to the 'he was tired, he didn't look good,'" said Schmidt, remarking on some excuses he said he had heard for Obama's performance. "It's like me standing here in front of all of you and pointing out that Senator Obama was smirking a lot during the debate, that his body language and posture were poor. All of those things are true. But I don't need to point them out because we substantively won the debate."
As occurred many times during the "spin alley" portion of the evening, foreign reporters wanted to know about McCain's position on Spain. (During a television interview this month, McCain apparently confused the Spanish prime minister with the leader of some more troublesome Latin American nation and took a hard line on sitting down with Jose Luis Rodriguez Zapatero. When reporters called his campaign on the mistake, McCain officials said there had not been one.)
"Senator McCain has the highest regard for our friends in Spain," said Schmidt, who, like McCain in the debate, tried to turn the subject into a way to talk about Obama's perceived presumptuousness, arguing that his candidate refused to think about scheduling meetings until he was elected.
Schmidt, who speaks in a deliberate monotone and wore a tie with flowers, echoed McCain many times from inside the scrum.
"I think across the board when you look at these issues, Senator Obama threatening to cut off aid to nuclear-armed Pakistan is blustering on that subject and is not a sophisticated understanding of the realities of the world we live in," said Schmidt.
Like McCain, Schmidt's economic talking-points imperative was spending, and when a reporter asked him about the spending freezes McCain proposed during the debate, he said, "One of the things Senator McCain has been talking about privately and will talk about publicly in the days ahead is the reality that this package, when its full dimensions are finally know, will have long-term ramifications for the federal budget."
Schmidt said McCain would soon lay out a strategy for economic growth, and an "additional plan" to slow the growth of spending in the federal budget. In the meantime, he said, McCain was helping improve the bailout proposal. "Because of Senator McCain's actions you now have all five parties at the table making good progress." He said that without McCain's help in bringing on Congressional Republicans, there were never enough votes to pass the deal.
"[Senator Democratic Majority Leader] Harry Reid is being fundamentally dishonest with the American people, when he says there was. He is trying to calm them."
A few feet away, Schmidt's counterpart, David Axelrod, the senior strategist in the Obama campaign, stood in a slightly smaller circle of reporters. He looked almost sleepy. He was talking about McCain's defense of "the same tired, worn disastrous policies that must change."
He said that if viewers "listened closely" to the debate, they would have heard a clear difference between McCain, who wanted to continue the failed Bush policies, and Obama, who offered a new direction.
Asked if Obama did a good enough job of making that contrast, Axelrod said, "I think he made the contrast very clearly." Particularly on issues of the economy and Iraq and Pakistan, he said, the distinctions were clear and that more people in America agreed with Obama's position. In such serious times, he said, viewers hadn't tuned in "to watch a demolition derby. I don't think they are scoring this that way."
Axelrod also said reporters were reading too much into Obama's repeated statements of agreement with McCain during the debate, expressions that the McCain campaign had cut into a Web video by the contest's conclusion, and which aides said they would consider putting on television.
"I don't think the American people are looking for a president who can't agree with an opponent on any issue," said Axelrod, who sought to frame Obama's agreements as expressions of maturity and comity compared to McCain. "You know there is a stubbornness to Senator McCain that is familiar, that people have seen over the last eight years." He added, "It certainly doesn't bother me in the least that he was willing to acknowledge that on some issues he agreed with Senator McCain."
When asked about McCain's professed reluctance to sit down with Zapatero, Axelrod said, "I don't know if he is still peeved over the Spanish-American War but most Americans have gotten over it. It's been a 150 years or something."
Plouffe stood in a much smaller puddle of reporters nearby, and after fielding more questions from the foreign press about Spain, said that Obama did a better job connecting to voters most endangered by the economic crisis.
"For the people sitting at home," said Plouffe, "who are more important than anyone in this room and are going to decide the election, in the domestic part of the debate, Barack Obama consistently said the Bush administration policies haven't worked. They've helped get us in this financial mess, and they're not working for middle-class families."
Reporters bounced from one surrogate circle to the next. Eventually, the McCain surrogates started leaving and "spin alley" thinned out.
On his way out, Schmidt said of Obama, "He wasn't very sharp tonight. I don't know if he can be sharper, but he wasn't very tonight." A foreign reporter yelled after him, "So you think you won the debate?"
"I know we won!" Schmidt's voice called back from behind the closing doors.
Axelrod stayed on for another 30 minutes telling reporters otherwise. At a certain point, he was surrounded only by the foreign press and a woman from the Independent Film Channel.
Howard Dean, the chairman of the D.N.C., added reinforcements, arguing that McCain wanted to return to "the cold war" in the debate.
"I think the American people have had enough bellicosity," said Dean. When asked how Obama could look strong onstage compared to someone who is coming close to suggesting war with Russia, Dean said that the American people, after seven years of war, "understand that people who talk big aren't necessarily good presidents."
A foreign reporter asked him about Spain.
"I don't know where that came from," said Dean. "You know John McCain says some very peculiar things once in a while."
Dean, known for his own hot temper, added, "I think that is one of his liabilities," he said. "He is somewhat erratic and hot-tempered as well."
After 11 p.m., Richardson, who had woken up before 4 a.m. that day to do morning television, was one of the last surrogates to leave. He walked out of the tent and toward the parking lot, the knot of his tie hanging below his unbuttoned collar. A French reporter asked him about Spain. He stopped, turned and, wearily, began to answer.