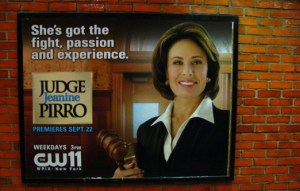 Yesterday morning about 30 people gathered outside of the Warner Brothers corporate office in midtown to protest the new TV show starring several-times-disgraced Republican Jeanine Pirro.
"I don't think people want to watch a show of a woman involved in putting innocent people in jail," said Sam Zherka, perhaps optimistically. Zherka, owner of the libertarian-leaning Westchester Guardian and the Flatiron's V.I.P. Club, helped organize the protest. 
The anti-Pirro poster boy and leader of the group is Jeffrey Deskovic, who was wrongfully convicted of rape and murder three years before Pirro became the Westchester D.A. She denied numerous appeals, and in 2006, Deskovic was exonerated, after spending 16 years in prison.
"She kept the ball rolling against me," Mr. Deskovic said of Pirro.
Now, he would like the WB network to suffer for putting Pirro back in the limelight with Judge Jeanine Pirro, a syndicated afternoon show that sounds a lot like Judge Judy.
Most of the other protesters were Westchester civil rights activists familiar with Deskovic, who is now an activist and reporter for Zherka's newspaper, but others had more general complaints.
"It was a little bit of everything," said Teodoro Chavez, explaining why he took the train down from Westchester with his friend Richard Guzman. They were concerned with prosecutors in general (two people Pirro put in jail, Richard Deguglielmo and Anthony DiSimone, have since been cleared upon findings of prosecutorial misconduct) and Pirro in particular. 
"Prosecutors are overzealous," said a New York City man named Steven who raised his poster over his face when I raised the camera. "They're horrors!"
Judge Jeanine Pirro is the latest act in Pirro's post-Westchester career. In 2005 she launched, then aborted a bid for Hillary Clinton's Senate seat. A year later she lost the attorney general's race to Andrew Cuomo. She is currently under investigation for wire-tapping her husband, and in February she broke her tooth during a guest spot on Fox News.
"Pirro had a future," said Chris Guerrero, a messenger walking by the protest. "I don't know what the heck is wrong with her now."