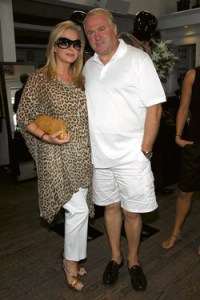 More than a year ago, a model on a bike named Le Call borrowed an umbrella from restaurant owner Nello Balan when she was leaving his Madison Avenue restaurant. She never returned that umbrella. Instead, she passed it on to financier Nathaniel Rothschild. 
Ms. Call, it seems, was used to extravagant gifts. That bike she was riding around town was given to her by chef Rocco DiSpirito. (This is the same bike that she then reportedly rode around on with actor Owen Wilson when he was in town last year.)
The umbrella turned out to be a gift to Mr. Balan from Jean-Paul Gaultier and was worth $5,000. Mr. Balan began to call Ms. Call to get it back. He even sent her a letter (conveniently published in Page Six!), asking her to return the precious umbrella.  But when the umbrella was finally returned to him by Mr. Rothschild, it was broken in half. Mr. Balan proceeded to file a $30,000 lawsuit against both Ms. Call and Mr. Rothschild in November 2007 for emotional distress, which was finally dismissed last Friday by a judge who promptly fined Mr. Balan for wasting the court's time.
The court documents posted on Cityfile read, in part: "Plaintiff's pursuit of claims without any legal or factual basis has resulted in unnecessary legal fees to be incurred by defendants in connection with this motion and cross motion and the waste of judicial resources.
"Defendants also assert that this action has been field in this court in an effort to gain publicity for Nello's Restaurant," it continues. 
But this isn't the first time that Mr. Balan has been accused of some shameless publicity tactics. In fact, according to our calculations, Mr. Balan has been in Page Six over 60 times since 1998. (Most of the mentions are positive.)
In March 2006, he took out a full page ad for himself in the Saturday New York Post. In May 2007, he tried to bribe everyone including Daily News reporters Joanna Malloy and George Rush. And in September 2007 he reportedly tried to shake down artist Jerome Lucani. (Mr. Balan claimed that Mr. Lucani threatened to kill him.) 
And on Friday, the day the case was thrown out, Mr. Balan was at it again, trash-talking someone to the Post. "The Four Seasons is a geriatric restaurant. It is finished," Mr. Balan told Page Six, in an item about Manhattan's "top" restaurateurs trashing each others' restaurants.