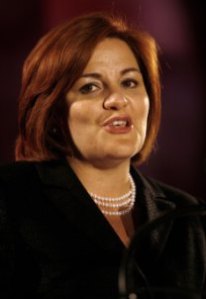 Christine Quinn did appear in City Hall earlier today, but made a quick departure from the building as reporters tried to ask her about term limits, according to a person who was there and was kind enough to send over a transcript.
Asked for reaction to the news that extending term limits might be easier than expected, Quinn told reporters, "All I can say is what I read in today's New York Post, and I was surprised that the New York Post cover wasn't about the 778-point drop on Wall Street and the failure of the bailout deal to pass." (Actual Post headline: "Mike the III.")
Asked if she has spoken with the mayor today, Quinn said, "It's Rosh Hashanah."
Asked if she spoke to the mayor yesterday, she said, "I don't think I spoke to the mayor about anything yesterday, no. Certainly not this. But I don't think I spoke to him about anything," she said.
If term limits are extended, it puts Quinn in a difficult position. On one hand, Bloomberg, a major ally of the speaker, could run for mayor again, and that means she probably wouldn't.
But then, she'll face re-election as speaker (after, presumably, winning re-election to her West Village Council seat).
That election could turn into a referendum on her tenure in City Hall, which saw a number of rough patches, including a nail-bitingly close vote to pass congestion pricing, only to watch it die in Albany; revelations that a slush fund had been hidden for decades in the city's budget; and a vote on a racially charged street renaming that got out of hand.
Bloomberg reportedly wants to ensure Quinn could be speaker again before he decides whether to run, at least in part because he doesn't want to deal with a new speaker.
That worried at least one council member, who said it underscores the very close relationship between Quinn and Bloomberg and raises concerns about the Council's independence.
"That should freak out members," this member told me yesterday. "Why would the mayor be so invested in having a particular speaker if she's playing the proper checks-and-balance role?"