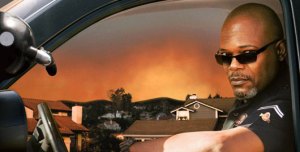 Lakeview Terrace
Running time 110 minutes
Written by David Loughery and Howard Korder
Directed by Neil LaBute
Starring Patrick Wilson, Kerry Washington, Samuel L. Jackson
Neil LaBute's Lakeview Terrace, from a screenplay by David Loughery and Howard Korder, based on the story by Mr. Loughery, explores our interracial malaise at a time when we are facing the ultimate test of our true feelings on the tangled issues involved. Not that Lakeview Terrace is predominantly concerned with how whites perceive blacks. For once, the shoe is on the other foot when a mixed-race couple, Patrick Wilson's grocery-store-chain consultant, Chris Mattson, and his African-American wife, Kerry Washington's Lisa, move into a secluded Southern California community right next door to Samuel Jackson's widowed LAPD officer, Abel Turner, who has two small children. A stern disciplinarian by nature, Abel has taken it upon himself to maintain order in the community, ostensibly for the sake of his kids, already chafing under the pressures of his endless rules.
Chris and Lisa try to be friendly with Abel by inviting his family to their housewarming. But from the moment of the Mattsons arrival, he seems determined to drive them away, first by flashing searchlights into their pool and bedroom, and later with more damaging disruptions, which lead eventually and inevitably to an armed confrontation. Since we are dealing with tensions in an obviously integrated community, there seems at first no racial tinderbox to be ignited. Mr. LaBute and his collaborators insist in the program notes that there is no racial element in the ever impending violence, only the atavistic impulse to protect one's turf, yet I would venture to say that they are being disingenuous. What is unexpected in the film is the hard time Chris gets not only from Abel, but also from Lisa's African-American father, who is allied with Lisa in her zeal to have Chris start a family before he thinks they are financially and emotionally ready. Indeed, much of the time, Chris is made to feel terribly alone in a hostile environment.
As it is, Mr. Jackson is a much more charming and personable performer than Mr. Wilson is ever allowed to be, even though Abel is clearly a calculatingly vicious and possibly insane vigilante type. This creates an imbalance in the narrative, because though our systematically shredded moral sense sides with Chris over Abel, our feelings gravitate to Abel by the larger amount of attention paid to his life as a cop outside Lakeview Terrace, where his behavior is impeccable and even heroic.
Still, Mr. LaBute has fashioned a suspenseful film out of the peculiar vagaries of the casting, which makes us fear the worst at every turn of the plot. When, with things on the verge of total disaster, the final secret is revealed, we realize that we have been masterfully manipulated, ostensibly for our own good. In these too often guileless days, even a little trickery can go a long way.
asarris@observer.com