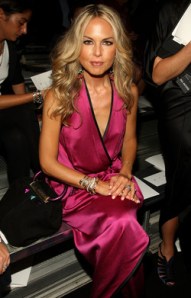 Today's review of The Rachel Zoe Project in the Times is a little mean and a little extreme with accusations—and sort of perfect. 
One of our favorite paragraphs: 
Given that Ms. Zoe is already a pox on humanity — exploiting an aesthetic of dissipation, invading our collective consciousness and spraying it with dummy dust — it is amazing that "The Rachel Zoe Project," which focuses on her career, manages to send its audience deeper into the territory of smug NPR obsessives who won't stop ranting about triviality's conquest of the American soul.
Amazing, yes. But even more fascinating is Rachel Zoe's apparent disregard for the financial crisis that seems to be hitting everyone but a 37-year-old "stylist" who plays dress-up with Hollywood actresses. 
While Lehman Brothers executives are hiding under their down comforters with a bottle of scotch right now, Ms. Zoe is collecting Birkin bags, replacing her own barely worn sofas with identical new ones (despite her husband's obvious hesitation), and scheming to design her own lines of denim, sunglasses, jewelry and handbags. (Her own assistant has to tell her, "You collect art. You don't collect Birkin.")
"I love our furniture, but we've had it for a while" she tells her husband. "I don't understand saving for the rainy day. Live now. Live every day like it's your last day."
Even the New York Times writer Ginia Bellafante is baffled by Ms. Zoe's level of consumption. 
"It's a genre that feels downright unseemly as investment banks are dissolving, and unemployment stands at more than 6 percent," she writes of The Real Housewives of Orange County coupled with Ms. Zoe's show. "It isn't merely that Rachel Zoe lumbers along, asking us to get excited about a corporate work in progress — it's also that the timing couldn't be nuttier."