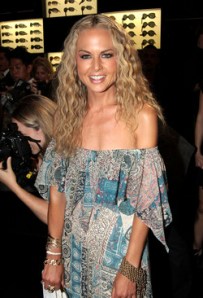 It turns out that celebrity stylist Rachel Zoe is not as thick-skinned as you would expect of someone who has spent so much time standing alongside such oft-photographed personalities as Lindsay Lohan and Nicole Richie. In the most recent episode of The Rachel Zoe Project, which was filmed earlier this year, Ms. Zoe comes across an item on NYmag.com's the Cut blog describing an incident in which she was locked out of Marc Jacobs' fall 2008 show in February. The discovery of the fairly even-handed account prompts her to burst into tears.
Last evening, the Cut ran an item celebrating their newfound fame—bloggers have to take what they can get!—while also seeming a bit confused by Ms. Zoe's breakdown. "Honestly, we're a little bewildered by Zoe's teary reaction," they write. "Especially since we were just reporting the facts. She even talked to our reporter for the item. We thought Zoe would be inured to press coverage at this point." You may recall that the Daily Transom has had our share of misunderstandings with Ms. Zoe, who recently accused us of "always twisting [her] words." Do we? Like the Cut, we like to think we just report the facts, but maybe we're all just insensitive? On her Bravo-sponsored blog, Ms. Zoe explains her reaction:
"I never quite understood, nor does anyone in my life understand, why I am such a moving target. It's a very surreal thing for me – it's extremely hurtful, and I'm extremely sensitive. All I've done with my life in the last fifteen years is work and I've made tremendous sacrifices in my personal life for my work. I still to this day don't understand why I am such a victim of the press. That's not to say the press hasn't been very kind at times, but unfortunately what sticks in people's minds is the negative press. It hurts. A lot of what people write is the absolute opposite of what actually happened. I don't understand why journalists don't fact check, why they just have the freedom to just write whatever they want. I could just sit there and lie, you know?"
Not to split extensions or anything, that's not exactly how it works. Fact-checkers abound and, excluding the Jayson Blairs of the world, we would be careful about describing journalism as a profession in which people "sit there and lie." That's really more of a publicist thing.
Also, here is her take on a recent Times review of her show (the piece was, needless to say, negative; Times writer Ginia Bellafante called her "a pox on humanity"):
"Most of the time it just hits me in the face because it's on things that I actually read. But sometimes it's really a tabloid-ly, disgusting website like a Perez Hilton or something that is never kind. First of all, I never go on Perez Hilton, but inevitably people e-mail me something and say, "He's such a jerk. Why would he say that about you?" and then I'm like, "Well, now I know!" It's hard to keep it a secret sometimes. The New York Times was not very kind to me either. A very kind journalist wrote an article two days later about me called, "Defending Rachel Zoe" and she basically disputed everything that was written in the Times. I think what happened with that Times article was that a lot of people called me and said, "We know we can't hide the New York Times from you, we know you're gonna see this. The thing that hurt was that for some reason, the journalist blamed me for the state of the world right now and blamed me for what she feels is a very superficial environment. I actually think quite the contrary. People watch television and movies because they want to remove themselves from their everyday life – it's an escape. This very kind journalist in the Huffington Post wrote this very kind rebuttal."
See? We're not all bad!
Also, we here at the Daily Transom would like to note that, while there was a screen shot of the Observer Web site in the preview for Tuesday's show, we did not make it into the actual episode. Why does the Cut get all the glory? We think Bravo is totally in the tank for New York! To get our hopes up only to have them dashed by unfair, insensitive Bravo film editors hurts, you know?
So, maybe all of us in the media universe should all try to be a little more fair to one another? Or, you know, toughen up!
And one more thing. Here is the penultimate line of Ms. Zoe's entry:
"The irony about the Times article was that people's reaction was, 'Wow, now I want to go watch.' She actually brought more attention to the show."
Well, yes—but we don't think that that particular phenomenon is, uh, news to Ms. Zoe.