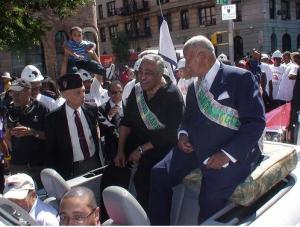 I asked Charlie Rangel yesterday after the African-American Day parade in Harlem about the attention he continues to get from the media about his unresolved ethics issues–and about how they've impacted him.
"Not at all. Not at all. I've got overwhelming support. Not one Democrat doesn't support me. Republicans support me. I'm the top fund-raiser in the Democratic Party. If I was them, I'd be after me too," Rangel said.
I asked if the probes have impaired his ability to act constructively in the aftermath of the Wall Street meltdown.
Rangel, chairman of the tax-writing Ways and Means Committee, said, "I was out with President Bush last night at the White House, and most of Wall Street was there. Nothing stops me. I was with the Second Infantry Division [in] Korea. This is light stuff. It's just a bad odor from The New York Post. And that will pass too."