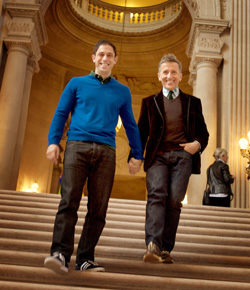 "I want to wrap him in a napkin and stomp on him."
These words were spoken by Jonathan Adler to the startled officiant at our big fat gay Jewish wedding. Yes, on Thursday, Sept. 18, as reported in The New York Times the following Sunday, Mr. Adler and I tied the knot in San Francisco. It wasn't really big and wasn't what you would call fat, but it was definitely a perfect day: We laughed. We cried. We ate some cake. We threatened to stomp on each other—as opposed to stomping on a nice piece of stemware à la the Jewish tradition—all in good jest, of course. And then it was over. No fuss. No muss. No sweat. Easy, breezy beautiful Cover Girl!
Having experienced such stress-free nuptials, I feel compelled to share a few tips. Here are my four wedding planner Dos and Don'ts:
1. Don't do a Star Jones. Keep it simple. Keep it small. Dinky is better. Taking our cue from my parents—after meeting in a soup kitchen at the end of the Second World War, Betty and Terry Doonan were married a few weeks later, repairing to an adjacent pub with their two witnesses—we enlisted the support of my mother-in-law Cynthia Adler and my sister-in-law, Amy Adler. If this sounds Grinchy and uncelebratory, look at it this way:  the fewer people present, the less likely that one of them will get drunk/eat all the cake/throw a fit/turn out to be a terrorist, or the Ancient Mariner. There's safety in small numbers. It's a statistical thing.
2. Do it in San Francisco. S.F. City Hall is glamorous, clean and chock-full of celebrating lesbians, many of whom seem to have butterflies tattooed on their calves. Dine at Chez Panisse in Berkeley. Then wake up early the following morning and drive to the paradisiacal Post Ranch Inn at Big Sur for a honeymoon weekend. My new mother-in-law had made the same trip back in the early 1960s, staying at an extant establishment named the Tickle Pink Inn, a great place for grammar-obsessed couples who can debate "Tickled" versus "Tickle."
3. Do bring chums on the honeymoon. If, like my Jonny and me, you and your S.O. have known each other for a while, your ability to enjoy endless tête-à-tête dinners may be limited. In addition to my new in-laws, two other couples—Cuban fashion royalty Isabel and Ruben Toledo, and gay newlyweds writer Ariel Levy and greenbuilder Amy Norquist—tickled us pink on our Big Sur weekend. 
4. Do bring along some kind of distraction—a harmless stress displacer—to prevent you from obsessing over the details of the wedding itself. This could take the form of a challenging book, or the latest spreadsheet detailing your plummeting stock portfolio.
In my case I brought along an extremely recalcitrant angora sweater. Ah, the agony of angora! And, the ecstasy.
It all started in June. I saw it, lurking on a shelf at Barneys, an early fall delivery from the house of Martin Margiela. I had to have it. This tobacco brown fluffy V-neck had special resonance for me: Apart from being excessively groovy, this sweater almost exactly resembled one worn by my father during one of his more beatnik moments. The anniversary of his death was looming and, yes, I admit it, I was feeling sentimental.
I found a size small and hurled it excitedly, along with my Barneys card, at the nearest salesperson. I rushed home, threw it on. Sheesh! My dad looked so much more butch in his than I did in mine, but so what! I was happy, and, most important, I was warm. My Jonny likes to crank the air-conditioning. I run cold. Now we were totally compatible: he in his Ralph Lauren oversize logo polo and me in my Sasquatch fluff.
By the time comedienne Chelsea Handler came on the telly, things had taken a sinister and decidedly ugly turn. To say that the sweater increased in size would be a wicked understatement. Every time I moved, it seemed to get larger. The V-neck plunged, the sleeves lengthened, the hips broadened. By the time I took the doggie out for his final piddle and poop, the waist-ribbing was around my knees.
Over the course of the next week my dream garment continued to elongate and morph until it resembled a giant oven mitt, or should I say two. (Full disclosure: in my panic/exuberance at finding this sweater-of-a lifetime, I had insisted that my sales person track down another one. I was now the owner of two frumpy oversize maxi-mitts, each the size of Luxembourg and getting larger.)
I called my friend Joyce Eliason in Los Angeles. A screenwriter and long-standing Margiela addict, Joyce has seen the ugly side of Hollywood and of uncooperative knitwear. I knew she would understand. "I always kept mine in the fridge," she said. "This helps maintain their shape and prevents flyaways." Too late! At this point my matching Yeti pelts were so large they would have required their very own Sub Zero.
"Boil the bitches!" said my friend Anne Ogden, a veteran knitwear designer. "Let them have it!"
Hallelujah! It worked. A run through the washing machine on "hot" and a flat dry totally did the trick. They were now dinky. Barbie dinky. Not to worry: easier to stretch than to shrink. I knew that with vigilance and obsessive care, I could achieve the optimum size.
The trip to San Francisco was the inaugural voyage of one of the now OshKosh-size garments. Bringing one of my newly shrunk sweaters on the trip had enormous therapeutic value. Massaging, tending, angsting over and, yes, actually wearing, albeit tentatively, that demanding piece of knitwear successfully diffused any wedding jitters, allowing us to have a heavenly time.
Ooops! I nearly forgot. One more wedding tip: Be sure to plight your troth with someone with whom you are helplessly and hopelessly in love. That's what I did.
sdoonan@observer.com