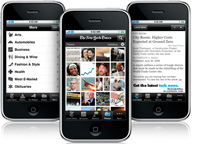 The New York Times will be taking its business online—its Business and Technology coverage, that is.
According to a press release today, the paper will be implementing "significant expansions of its online business coverage with a redesigned Technology section, the introduction of an Economy section and Green Inc., a blog on energy and the environment, and enhancements to The Times's mobile site. In the coming months, NYTimes.com will expand the Small Business, Personal Technology and Your Money sections; introduce more journalists; deepen coverage within its DealBook franchise; and continue to add new tools and multimedia features throughout its online and mobile business pages."
On April 22nd, The Observer's John Koblin reported that:
The Times
is nearly ready to unfurl an expanded business report on its Web site. It'll cover business and technology, and it's hiring both outside and inside the paper to do it. The model, said [
Times
business editor Larry] Ingrassia, the former
Journal
guy who tried to chase down [Marcus] Brauchli at the Ritz-Carlton, is like DealBook, the site edited by Andrew Ross Sorkin that is a combination of aggregation and original reporting. And, unlike most of WSJ.com, it's free without a subscription.
'We are looking for opportunities where we think areas of coverage we can beef up,' said Mr. Ingrassia on April 21, hours before Mr. Brauchli's last supper. 'Bring it on, bring on the competition!' he said.
The full New York Times Company release can be found here.