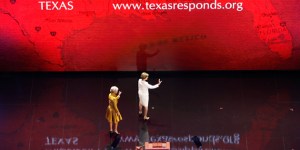 ST. PAUL—The latest word is that Hurricane Gustav has been downgraded to a Category 1 storm and that water levels in New Orleans are receding – strong and encouraging signs that the Crescent City and the rest of the Gulf Coast will be spared tragedy and destruction on the scale of Hurricane Katrina.
And now, at the Republican National Convention, the effort is underway to portray this good news as a triumph of Republican leadership.
Just before 5:00 p.m. (E.S.T.), with the scoreboards in the Xcel Energy Center prominently displaying the words "Country First," First Lady Laura Bush was called to the stage, where she spoke of the human toll that the storm threatened to exact and the need for support from all Americans for any recovery effort.
She noted that all of the governors of the affected states are Republicans, prompting loud applause from the delegates.
Then, the lights were dimmed and a video featuring appearances from most of the Gulf Coast governors was screened. Starting with Rick Perry of Texas, each governor spoke of his state's preparation for, and response to, the storm. Each also offered effusive praise for his fellow Republican governors and for the way the storm had been handled by the federal government.
Perry handed off to Alabama's Bob Riley, who was followed by Florida's Charlie Crist, who was followed by Haley Barbour of Mississippi (a former G.O.P. national chairman who invited John McCain to his state for a much-publicized pre-Gustav visit this weekend). Only Louisiana's Bobby Jindal didn't appear.
No Democratic office-holders were included. Granted, there is no Gulf state with a Democratic governor, but it isn't as if there are a shortage of Democrats who were part of the hurricane planning. New Orleans Mayor Ray Nagin or Louisiana Senator Mary Landrieu, who's up for re-election this year, would have been good choices. Even former Senator John Breaux, also of Lousiana, could have provided some balance in a relatively non-political fashion.
Instead, the speakers painted a picture of cooperative and effective–but definitively Republican–leadership, all while maintaining the nonpartisan rhetoric.
"All of us have worked together and are going to continue to work together to help each other," Barbour declared.
When the video ended, Cindy McCain joined Bush at the podium and reiterated her husband's refrain of the past several days: "As John has been saying for the last few days, this is a time when we take off our Republican hats and put on our American hats." The crowd roared its approval.
With that, the opening day of the G.O.P. convention came to an end. On Fox News, anchor Brit Hume quickly segued to a piece about the various ways in which delegates have put politics aside these past two days to focus their thoughts and efforts on helping the people of the Gulf Coast. On television, one woman noted that her delegation had turned its morning meeting into a prayer session.
But if last night is any indication, not every Republican has gotten the memo.