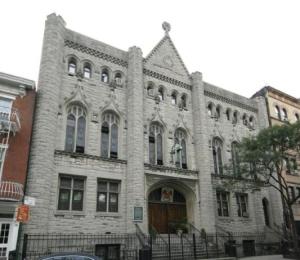 The Cathedral of the Holy Virgin Protection, a Russian Orthodox congregation on the Lower East Side, finds itself, like many churches before it, in money troubles. Indeed, such troubles were the lead topic in the church's July newsletter:
"Money is a part of life, even in the life of the church. … This summer's recession with sharp increases in food, fuel and other needs is shaping up to be one of the worst I can remember. Despite the government's attempt to bolster the economy by sending us all economic incentive checks in the form of tax-rebates, tithes and donations are still very low. One person did send a special donation from their rebate check in addition to their regular tithe to the Cathedral—just one person— so far."
The newsletter goes on to discuss the history of the church's financial woes and ends the discussion with a note of hope:
"We are currently working on an opportunity that could provide us with a clear way out of the morass of financial problems that have plagued the Cathedral for decades. This plan has a purpose, a sense of duty to the past and future of the Church, and an eye toward future preservation while taking into account the best interests for our parishioners. Should this opportunity develop beyond the exploratory phase our pledging members will be asked to approve it."
We think we may know what that opportunity is. The church today filed plans with the Buildings Department to erect an eight-story, 34-unit residential building at 59 East Second Street, the address of the church, which, while quite pretty, does not appear to be landmarked. It's unclear at this point whether the apartment building would rise atop the church, behind it, or in place of it.
Church representatives were not immediately reachable, but we'll keep you posted.