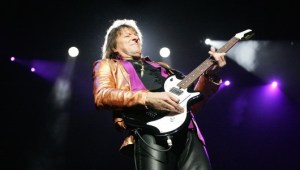 Bon Jovi guitarist Richie Sambora has paid the highest price per square foot ever for a Philadelphia condo–$1,377. Mr. Sambora bought a three-bedroom condo on the 52nd floor of Center City's tallest residential tower for $3.58 million.
Some perspective: The average sales price per square foot of a Manhattan condo, according to the latest Miller Samuel-Douglas Elliman report, was $1,442 by mid-year. In Brooklyn, it was $575.
Here's more on Philly's latest housing numbers. And here's a story about Brooklynites moving to Philly. Yikes.
Full release from Rubinstein below on the Sambora record:
RICHIE SAMBORA TO LIVE THE ROCK STAR LIFE
AT TWO LIBERTY PLACE
Richie Sambora Buys First Home in Philadelphia
$3.58 Million Ultra-Luxury Residence at Two Liberty Place
PHILADELPHIA, PA– Bon Jovi's legendary lead guitarist, Richie Sambora has purchased his first home in Philadelphia at The Residences at Two Liberty Place, the tallest residential building in Philadelphia. This $3.58 million luxury residence on the 52nd floor boasts a spacious 2,600 square feet with 3 bedrooms, 3 and a half baths, and a den with panoramic views of Philadelphia, New Jersey and Delaware. At $1,377 per square foot, Mr. Sambora's home sets a new record for price per square foot in the area's condominium market.
"I'm so excited to finally have a home in Philadelphia," says Mr. Sambora. "Choosing The Residences at Two Liberty Place was easy — it's the most upscale residential building the City has ever seen. The views are outrageous, and the level of personalized service is unbelievable — they treat you like… well, a rock star. No other building I looked at in Philadelphia has such a luxurious and private lifestyle."
Two Liberty Place (along with its sibling, One Liberty Place) is the signature landmark of Philadelphia's skyline. The iconic tower, designed by world-renowned architect Helmut Jahn and re-developed by the Falcone Group, consists of 90 spacious luxury residences that begin on the 40th floor and soar to the penthouse on the 57th floor. These homes, ranging from a 1,150 square-foot one bedroom plus den to a 12,000 square-foot mansion-in-the-sky, feature expansive layouts and wall-to-wall windows providing residents with unobstructed, sweeping views of an entire metropolis below. This is the first time in Philadelphia's history that residents will be afforded the opportunity to live above William Penn's hat, the well-known landmark atop City Hall.
"We are very happy that Mr. Sambora has selected The Residences at Two Liberty Place as his home in Philadelphia," says Albo J. Antenucci, Jr., Managing Partner and Executive VP of the Falcone Group. "Prominent people from around the country are recognizing that this is a truly limited-edition opportunity to live the ultimate urban lifestyle in one of America's great cities."
In addition to offering the highest level of materials, finishes and features within its residences, Two Liberty Place also provides a comprehensive complement of services and amenities for resort-style, private club living in the clouds. The Owners Club on the 37th floor will even include a 5-star restaurant – the highest in the region – which will offer owners preferred seating, as well as catered room service. But what most distinguishes The Residences at Two Liberty Place is the introduction to Philadelphia of a true 5-star white glove concierge service, normally reserved to the upper echelon of the hospitality industry.
For more information please visit www.twoliberty.com