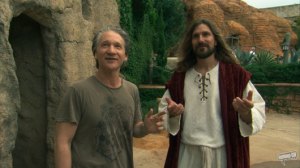 Bill Maher is a brave man. He's also a smart and witty one, which is why sometimes watching his HBO show Real Time With Bill Maher can be very entertaining or occasionally cringe-inducing, as he appears entirely unafraid to go there on topics polite society tends to shy away from. (His comments on Politically Incorrect after 9/11—"We have been the cowards, lobbing cruise missiles from 2,000 miles away. That's cowardly. Staying in the airplane when it hits the building, say what you want about it, it's not cowardly"—led to ABC firing him.) Because of his outspokenness, people either tend to love Mr. Maher or absolutely hate him. We're guessing he doesn't care either way, but we're also curious to see whether the folks in the latter category will turn up this weekend to see his documentary, Religulous. Religion is one of those aforementioned sensitive subjects—in fact, is there a subject any touchier?—and Mr. Maher's current faith appears to be that of skepticism, something he is clearly willing to proselytize. The film follows Mr. Maher traveling the globe, seeking out and interviewing true believers and, more times than not, trying to point out the lunacy inherent in every religion's foundation (just wait till you hear him on the subject of Jonah and the whale).
Larry Charles, director of Borat (and an executive producer of Curb Your Enthusiasm), wisely stays out of the way and lets Mr. Maher be Mr. Maher. Early in the film, it's Mr. Maher as human being as he interviews his mother and sister about his family's odd religious upbringing—it's a sweet and personally revealing moment. Mr. Maher grew up Catholic and didn't find out till later in life that his mother was Jewish—which is why she never attended church. The family stopped attending altogether when Mr. Maher was a teen, setting in motion a path of doubt and questioning that has taken Mr. Maher to where he is today. Religulous spends a lot of time focused on Christianity, though really no religion is spared. The interviews are always funny and startlingly frank, and it's pretty amazing when Mr. Maher reveals just how well informed he is on his subject (though it's worth noting that it's only a kinda nutty Jew who manages to truly frustrate him). Sometimes these interviews are thought-provoking, and other times you just have to wonder how Mr. Maher managed to get out of a room without getting punched in the face (just try not to squirm when Mr. Maher interviews a man who helps "convert" homosexuals and Mr. Maher informs him he still reads rather gay). As entertaining—and somewhat disheartening—as this film is, our only beef is that it's sometimes too easy to make fun of the absolute most extreme believers. Sure, it's an easy laugh to talk to the amusement park Jesus or the lady who says she's going to go in the rapture and come back on a white horse, but it would have been even more interesting to see Mr. Maher debate someone who is rational, intelligent and as deeply religious as he is skeptical. Otherwise, we worry that Mr. Maher will end up only preaching to the already converted.
Religulous opens Friday at Angelika Film Center.
svilkomerson@observer.com