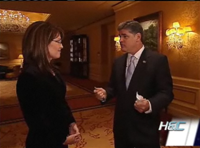 Yesterday, Alaska Governor Sarah Palin sat down for her second post-convention interview. This one took place in Ohio. Sean Hannity of Fox News' Hannity & Colmes asked the questions.
At one point, Mr. Hannity asked Ms. Palin (who let her hair down for the interview) what she thought of Tina Fey's recent impression of her on Saturday Night Live. "I watched with the volume all the way down," said Ms. Palin. "I thought it was hilarious. I thought she was spot on. … It was hilarious. Again, didn't hear a word she said, but the visual, spot on."
"Did anyone ever say that before that there was a similarity in terms of looks?" Mr. Hannity asked.
"They've been saying that for years up in Alaska," Ms. Palin responded. "In fact, I dressed up as Tina Fey once for Halloween. So we've been doing that before Tina Fey has been doing that!"