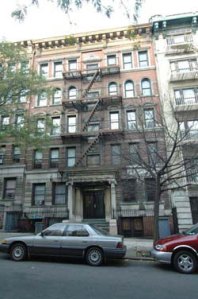 Thank God for bankruptcy proceedings and distressed sales, or we'd have nothing to report!
Case in point: 21 buildings in Upper Manhattan have sold for $54 million, and we have two alleged hucksters named Michael Hershkowitz and Ivy Woolf-Turk to thank for that. In July of last year, the U.S. Attorney for the Southern District of New York charged the ersatz Kingsland Group developers with conspiracy to commit mail fraud and wire fraud for "an elaborate scheme" to bilk more than $27 million from "approximately 70 individuals."
The case is still wending its way through the federal judicial system, but the middle-aged pair's onetime empire of 21 residential buildings, since placed under the trusteeship of attorney Richard Wasserman, was sold to an undisclosed buyer in a $54 million trade on Sep. 10. The profits will be used to repay creditors.
Neither Mr. Hershkowitz nor Mr. Woolf-Turk could be reached for comment. But according to the attorney's office, their scheme went like this: The duo persuaded investors to loan them $27 million for the renovation of about 16 apartment buildings in Upper Manhattan. (They also took out loans totaling $51 million from financial institutions.) In return, they promised above-market-rate returns and, as collateral, said they would give investors interests in the first mortgages on the various properties. But the mortgage documentation the pair presented was doctored. And wouldn't you know it, soon, Mr. Hershkowitz and Ms. Woolf-Turk defaulted on many of the loans.
The 21 buildings, most of them rent-regulated, include 234-236 East 118th Street in East Harlem, which house 22 apartments; and 19 buildings in Washington Heights, containing 478 residential units, five super's units and 12 commercial units, for a total of 400,630 square feet. Those buildings are 463-467 West 159th Street, 2180-2182 Amsterdam Avenue, 503-507 West 176th Street, 531 West 179th Street, 704 West 180th Street, 559-561 West 183rd Street, 510-524 West 184th Street, 507 West 184th Street, 515 West 184th Street, 516-520 West 188th Street, 283-285 Audubon Avenue, 70-72 Pinehurst Avenue and 500 West 190th Street.
Robert Knakal of Massey Knakal was the lead broker representing Mr. Wasserman, working with partner Shimon Shkury and senior director of sales Robert Shapiro.
drubinstein@observer.com