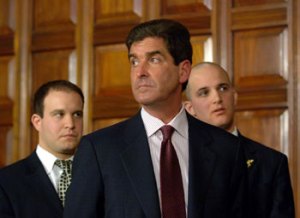 Celebrity chef Mario Batali's critically acclaimed Del Posto restaurant earned a more dubious distinction on Sunday, when state Senator Jeff Klein set up outside to announce his second annual round-up of New York City's dirtiest restaurants.
Mr. Batali's three-star eatery on 10th Avenue flunked a city health inspection this past June, racking up a total of 44 violation points for pest problems and spoiled food — "proving that even world class kitchens cannot afford to scrimp on pest control," according to Senator Klein's office.
If Mr. Batali is interested, this reporter happens to know some good exterminators.
However, Del Posto was far from the city's filthiest eatery. In fact, it didn't even make Senator Klein's "Dirty Dozen" list.
Top honors go to El Barrio restaurant in East Harlem, which exceeded 200 violation points — perhaps a new low in unsanitary excellence.
Last year's worst performer, Midtown's Cafe Fonduta scored only 160, a full 68 points more than the infamously rat-infested KFC–Taco Bell in Greenwich Village that put the whole issue of restaurant cleanliness into the spotlight.
And yet, Cafe Fonduta had earned a perfect score of 0 when inspectors returned — a fact Senator Klein was unaware of when he subsequently picked the storefront for his seedy backdrop.
Other Manhattan eateries to make the new "Dirty Dozen" list included Jimmy's Coffee Shop, the Metropolitan Grille, and 26 Seats.