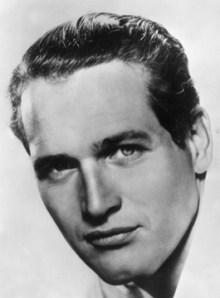 Do you have plans for Sunday, October 12? Cancel them.
If, in the wake of Paul Newman's death last Friday, you've been wishing to revisit the great actor's work and have been thwarted at your local video store, Turner Classic Movies has stepped in with a 24-hour block of Newman movies.
Per the TCM site, here's how it will go:  
6 a.m.  The Rack (1956) – Paul Newman plays a Korean War veteran who has been brainwashed and is now on trial for treason in this taut drama based on a Rod Serling teleplay.  Walter Pidgeon and Wendell Corey co-star.
8 a.m. Until They Sail (1957) – This drama directed by Robert Wise tells the story of four sisters each struggling to find love and happiness in New Zealand during World War II.  Newman plays a Marine captain who falls for one of the sisters, a widow played by Jean Simmons.  This film marks Newman's emergence as a matinee idol.
10 a.m. Torn Curtain (1966) – An American scientist pretends to be a defector in order to get some vital information in this Alfred Hitchcock thriller co-starring Julie Andrews.  Newman's fight scene in a small farmhouse is a brilliant but disturbing Hitchcock set piece.
12:15 p.m. Exodus (1960) – Otto Preminger directed this epic adaptation of Leon Uris' history of the Palestinian war.  Newman plays an Israeli resistance leader, while Eva Marie Saint co-stars as an army nurse.  Ernest Gold won an Oscar for his memorable score.
3:45 p.m. Sweet Bird of Youth (1962) – Newman and co-star Geraldine Page reprised their Broadway roles for this adaptation of the Tennessee Williams drama.  In it, Newman returns to his hometown with an aging movie queen in tow.  Ed Begley won an Oscar for his performance as the town boss.
6 p.m.  Hud (1963) – This modern western, based on a book by Larry McMurtry, features impeccable performances by Newman and Oscar winners Patricia Neal and Melvyn Douglas.  Newman plays a restless youth who destroys nearly everything he touches.  Also earning an Oscar for this drama was cinematographer James Wong Howe.
8 p.m. Somebody up There Likes Me (1956) – This Robert Wise-directed biography of boxer Rocky Graziano traces his rise from the streets of New York to packed arena.  Pier Angeli co-stars.
10 p.m. Cool Hand Luke (1967) – Newman gives a powerful and endearing performance as a member of a prison chain gang in this drama laced with ample doses of anti-establishment humor.  Co-star George Kennedy took home an Oscar for his performance, while Strother Martin nearly steals the film as the warden.
12:15 a.m.  Cat on a Hot Tin Roof (1958) – Tennessee Williams' classic drama comes to the screen with an outstanding cast headed by Newman and Elizabeth Taylor.  The story involves a rich Southern family of greedy vultures hovering around while their patriarch, played by Burl Ives, prepares to die.
2:15 a.m. Rachel, Rachel (1968) – Newman co-stars with is wife, Joanne Woodward, in this sensitive drama about a spinster trying to come out of her shell.  This film marked Newman's directorial debut.
4 a.m. The Outrage (1964) – Newman stars as a Mexican bandit accused of rape in this adaptation of Akira Kurosawa's Rashomon.  Edward G. Robinson, Claire Bloom, Laurence Harvey and William Shatner co-star.
This is certainly a good list. But it's missing some of our favorites: Wither Butch Cassidy and the Sundance Kid, Slap Shot, The Verdict, The Color of Money, and – our own personal favorite – Nobody's Fool?