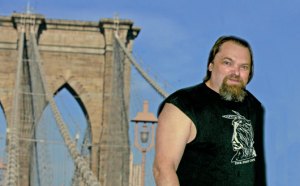 After working security at the exclusive Studio 54 and later reigning over his own unruly crowd at the legendarily lawless dive bar Siberia, Tracy Westmoreland isn't the kind of guy to be intimidated by a few little raindrops.
And he expects the same waterproof attitude from his real estate partners.
"Right now, I'm dealing with this friend of mine who's a very serious motherfucker," said the imposing 6-foot, 250-pound nightlife impresario, as he headed out from his midtown apartment one stormy Friday afternoon last month. "The guy's hard-core. He's like me. So we're going walking. In the rain, we're going to go walking around Brooklyn. I don't think either one of us has an umbrella, either."
Still living on the edge, it seems, even without his edgy bar, which shuttered in 2007, the illustrious 51-year-old actor, bouncer and entrepreneur has spent much of the past summer scouring the city in search of a suitable site for his next den of debauchery.
"I found one space that's absolutely gorgeous," he recently told The Observer. "I mean, it's not gorgeous—it's a shithole! But the location is perfect and everything else."
Indeed, the ideal space probably would have to be somewhat squalid, enough so to absorb all the rampant bottle breaking and other general anarchy that has reportedly taken place inside Mr. Westmoreland's previous graffiti-clad locations.
Yet, much to the chagrin of such self-professed Siberia regulars as the celebrity chef Anthony Bourdain and the comedian Jimmy Fallon—not to mention a slew of media professionals, including various Observer reporters over the years—Mr. Westmoreland has yet to sign a lease, although he seems to take great pleasure in the process. "I think there's a great bit of drama in the hunt," he said.
Real estate has long been a passion of sorts for the eccentric Mr. Westmoreland, dating back to the time he chained up his wife, his kids, his priest and himself in protest of his landlord's yearlong effort to evict him from the original Siberia location, tucked away inside the subway station at 50th Street and Broadway.
It took the next landlord even longer to dislodge Mr. Westmoreland. Orj Properties, owner of the second Siberia space, at 356 West 40th Street, ultimately charged the charismatic bar owner with owing upward of $292,182 in rent, dating back to 2002—an amount Mr. Westmoreland vigorously disputed, arguing that payment was contingent on the owner's fixing of various alleged building violations, according to court papers.
After two years of legal wrangling, the landlord eventually agreed to pay Mr. Westmoreland $40,000 to settle the claims and to force Siberia to close in April 2007.
His current quest for a new landlord, though, has managed to actually uproot the longtime Manhattan stalwart from his usual environs in Hell's Kitchen, where both prior Siberia incarnations were located, and shift his focus to the city's hinterlands—beyond even the ever-expanding boundaries of bourgeois bohemia.
"I'm interested—and this is going to sound crazy—I'm interested in Crown Heights," Mr. Westmoreland said recently, referring to the gritty central Brooklyn neighborhood perhaps best known for the violent race riot that lasted a full three days back in the early 1990s. The area, like much of the borough, has slowly started to gentrify in recent years—albeit, to this point, much less so than other, now rather fashionable nabes.
"Williamsburg is fucking over," Mr. Westmoreland said. "It's time to break new ground."