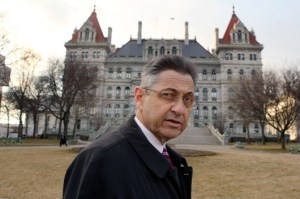 Assembly Speaker Sheldon Silver, a powerful voice in the redevelopment of downtown, wants the Lower Manhattan Development Corporation to stay in business, according to his spokesman.
That puts him at odds with Mayor Bloomberg, who today called in an op-ed for Governor Paterson to disband the agency, which has divvied up much of the federal money that went to Lower Manhattan following the attacks of September 11, 2001.
Dan Weiller, a spokesman for Mr. Silver, who has previously expressed support for LMDC chairman Avi Schick, had this to say this afternoon:
"Speaker Silver said that he welcomes the sense of urgency that the mayor has expressed regarding progress at ground zero. Speaker Silver believes that it is desirable to keep the agency that is responsible for coordinating city, state and federal efforts at ground zero, the LMDC, which has representation from both the city and state government."
Earlier this afternoon, Governor Paterson put out a statement responding to the mayor's op-ed, in which he appeared to imply he will deal with the issue after the Port Authority releases a report on the redevelopment this month.