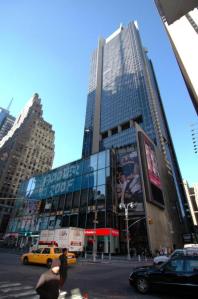 Greg Hughes, chief financial officer for New York City's largest commercial landlord, SL Green, said this morning that Viacom, which has leases for 1.5 million square feet at 1515 Broadway, most of which expire in 2010, is likely to renew.
"We're have ongoing negotiations with Viacom for what seems like five years now," Mr. Hughes said, while giving a presentation at the Merrill Lynch Global Real Estate Conference. "There is a renewal option that comes up that they have that they need to exercise in December of this year. I think if you talked to them they would tell you they like the building very much…"
"They'll likely exercise their renewal and then there'll be a spirited discussion over what fair market value reps," Mr. Hughes continued. "The very good news is that we have signed a couple of recent deals in that building for $85 a square foot." Right now, Viacom pays around $50 a square foot.
SL Green recently launched a $160 million renovation of the 54-story cloudbuster on Times Square that will replace its limestone facade, extend its glass-curtain wall, make it silver LEED-qualified, and include a new lobby.
Mr. Hughes said that, even if Viacom doesn't renew, it will make the building more attractive to new tenants: "We've come up with a redevelopment plan that kind of suits either result. If they stay, it's fine. If they go, it's fine."