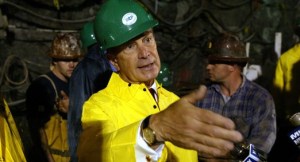 Chris Smith just went up with an article that picks up the idea that the Wall Street downturn could help Michael Bloomberg make the case that he should change the term-limits law and run for mayor again.
It does, Smith writes, but it shouldn't be done legislatively. Smith argues it should be done by referrendum, in part because it would give Bloomberg a much-needed mandate. 
Smith writes:
Bloomberg should do it the hard way: He should ask that a referendum be placed on this November's ballot. Calling for a vote of confidence would be sort of British, and essentially make this fall a one-man mayoral primary—certainly not a fair contest, but a good test of whether the city really wants him for four more years. Third terms are historically treacherous; Bloomberg could use a clear public mandate going in.