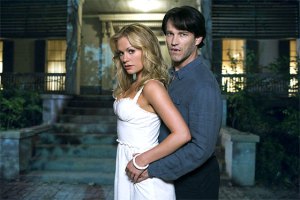 More evidence that this fall season of TV is weak: no one is watching anything!
Despite our tremendous affection for HBO's vampire drama True Blood, it tanked in the ratings. We suggested it might be Alan Ball's own personal John From Cincinnati, but it may even be worse: True Blood had fewer than half of John's viewers watch its premiere, or 1.4 million total. Fingers crossed that rebroadcasts and On Demand viewings give it a boost.
How about Fringe? Eh. It did all right, and won its timeslot last night, capturing 9 million viewers on average over its two hour debut. Fox will re-air the pilot this Sunday, with 4 minutes of the second episode tacked on. Perhaps making the show even longer will help? Uh, probably not.
And Entourage…dear Entourage! The HBO comedy hit a three year low with its 5th season premiere (even though we can tell you that this season looks way better than last). 1.6 million people tuned in—29% fewer than did last year. Has Vinnie Chase finally lost his charm? Or, with our recession mentality, are people just not that into spoiled Hollywood boys? We're torn.
In better news, the new 90210 lost viewers in its second week. This sounds like bad news, right? It's not. No one should watch that show. It will rot your soul.
(Thanks to TV Tattle for the links.)