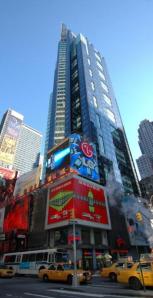 Some solace for you amid today's turmoil: The aptly named George Comfort & Sons is close to buying the two remaining trophy towers that Deutsche Bank put on the block earlier this year after taking them back from distressed borrower Harry Macklowe, according to sources familiar with negotiations.
Word has it that the price for the towering 1540 Broadway and Worldwide Plaza, at 825 Eighth Avenue, is hovering near $2 billion, but that the deal relies, at least in part, on NBC leasing the remaining mega-chunk of space in Worldwide Plaza for its new business operations center. NBC Universal has been captivating the sluggish office market for months with its very public search for more than 600,000 square feet.
Neither Deutsche Bank's real estate advisors at Eastdil Secured nor a representative from George Comfort & Sons would comment. But, for those who have never heard of the Comforts, they appear to be one of those powerful New York real estate dynasties that, against all odds, manages to stay well below the media radar. The firm owns 200 Madison Avenue and 498 Seventh Avenue, among other properties.
If sold, this deal would essentially close the book on Macklowe Properties' tumultuous dealings with the so-called Equity Office Portfolio, the seven-tower Midtown portfolio that Mr. Macklowe bought in 2007 for $7 billion, putting down just $50 million and using his beloved GM Building as collateral (we all know what happened there).
On Sept. 3, The Observer broke the news that a Japanese firm called Mitsui Fudosan is buying the 26-story 527 Madison for $225 million and that the Chicago-based Transwestern is under contract to take Tower 56 at 126 East 56th Street at for $160 million.
More on this impending deal in Wednesday's paper.