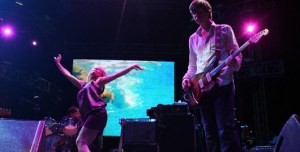 Glory be! Ending weeks of fevered speculation, Sonic Youth—a band that virtually defined independent music in the 80s—is returning to the fold after nearly twenty years on major label, DGC/Geffen. According to nearly every music blog in creation, and, of course, the label themselves, the band has signed with Matador Records (certainly beats the hell of out Starbucks), joining together two cherished New York institutions. (Though with the collapse of the music industry and rock bands being  fairly banished from radio and television, labels like Matador more or less are the new majors, they just treat their artists better. But that's another conversation…)
The kids in Sonic Youth (who, by the way, are all in their late 40s/early 50s) fulfilled their contractual obligations to Geffen with 2006's Rather Ripped. Recently, they made it clear they've been unhappy in the big leagues and wanted to go indie. Guitarist Thurston Moore told the Rock & Roll Daily, that "the last four or five records [Sonic Youth] did were just so compromised by that [major label] situation." Some folks pegged them to Domino, but nope. Sonic Youth are flying with Matador—home to Yo La Tengo, Cat Power, and The New Pornographers—for their next record, tentatively called The Eternal and due out "sometime in 2009." Moore and Co. debuted some new material earlier this month in Philly, which may or may not make it on to the new disc.
Proving that it's always good to stay in touch with old friends (or enemies), the dude who actually posted to Matador's Matablog to confirm the band's signing is the same Gerard Cosley who ran Homestead Records back in the 80s and put out early Sonic Youth releases like Bad Moon Rising and the "Death Valley '69" single.
In other alterna-nation news, Alice in Chains is heading back to the studio this fall to record a new album after a 13-year absence. All the original members will be featured minus, of course, gravel-voiced wonder-junkie Layne Stately who died tragically of an overdose back in 2002. Replacing him will be some guy named William DuVall. Though from the looks of this video, that may not be such a bad thing.