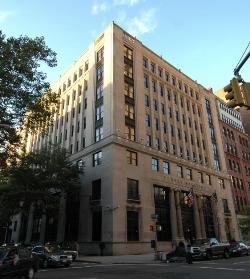 The credit crunch is hitting Spanish real estate firm Renta Corporación hard, and the company's ill-timed 2007 expansion into New York City has cost Renta several properties in Manhattan, including the fabled Forbes building at 60 Fifth Avenue. According to Crain's, the firm has closed on just one building out of six that it had gone to contract on over the past year.
Things may only get worse before they get better for Renta, especially considering that the company's stock has tumbled 82 percent from a 52-week high and the tepid Spanish real estate market overall.
Renta is struggling to find financing for several deals, including the Mercantile Liberary at 17 East 47th Street and an office building at 12-14 Warren Street.
You know things are bad when the company's managing director is quoted thusly: "It's like a guerrilla war. It is a face-to-face fight every day… We probably selected the worst moment to come here."