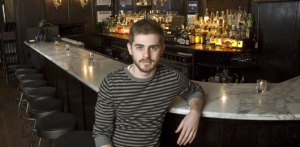 An ongoing dispute with an upstairs neighbor continues to create more legal headaches for David Kaplan, proprietor of the popular yet embattled East Village cocktail lounge Death & Co.
Mr. Kaplan, who is also suing the State Liquor Authority over its decision to not renew his liquor license, has now filed for a court injunction barring landlord P.V.P. Management from evicting his bar, located at 433 East Sixth Street, over alleged noise issues.
The tenant living directly above the bar, identified in court papers as Joseph Hurley, has claimed that "repeated and forcible closing of the [bar's] front door … causes a severe and unreasonable amount of vibration" in his apartment.
As a result, the landlord has threatened to terminate Mr. Kaplan's lease unless the issue is resolved.
Mr. Kaplan has denied Mr. Hurley's allegations, noting that on four separate occasions, building inspectors have been called to the premises to examine the alleged vibrations; each time, the inspectors found no violations.
In addition to the injunction, Mr. Kaplan has asked the court to award him attorney's fees as well as "salary for doorman," court papers show, since the doorman's "job is to open and close the door in order to ensure that the door is not slammed."