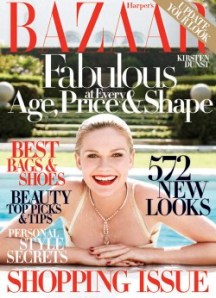 We have long been fascinated by the new Kirsten Dunst—the rehabilitated Downtown girl whose dinners at Freeman's and late night outings have grabbed New Yorkers' attention—but until now, we have not heard Ms. Dunst discuss her reinvented self. It seems she has grown and evolved since spending time at Cirque Lodge in Utah earlier this year (she checked out in late March), which was the final step to leaving her child actress self behind and becoming an adult, she tells Harper's Bazaar in their October issue.
Here we thought we were the official Kiki experts, but given the rich detail in the profile, we bring you a 10-point summary of what we learned about the rehabilitated Ms. Dunst:
1. While Ms. Dunst is not a Scientologist, she likes to show off her copy of L. Ron Hubbard's Scientology Code of Honor—a gift she received from Tom Cruise—to guests who visit her Nichols Canyon home. It's just so L.A. 
2. She lights A.P.C. candles and smokes American Spirits at home.
3. She would prefer not to give a quote about why she entered rehab because every time she does, the blogs go mad with it and misinterpret. But, she explains that she was "enormously co-dependent" before rehab.
4. The way Hollywood treats women kills Ms. Dunst's "spirit": "'I don't buy the rag mags, but I was looking at the cover of one, and an actress's husband apparently had cheated on her. Who knows if it's true?' she says. "But they don't put the guy on the cover, going, Look at what this guy did. They put the girl on the cover, going, Look at what he did to her. That is the stuff that I have no tolerance for. Guys will go do this, that, and the other and they're cool, and girls will go out with their friends and do this and it's 'horrendous.' If a guy's flirting with me, I'm the slut. It can kill a girl's spirit.'"
5. In her efforts to "help people" and be "a good friend," Kiki is working on forming a grassroots organization to help women talk about their problems. First topic: why Samantha Ronson's and Lindsay Lohan's relationship is a positive influence on young women.
6. Last summer she formed Wooden Spoon Productions with two of her girlfriends so that she can work on her own films. Why Tuesday?—a film about moving Election Day to the weekend so that more people can vote—is her first project. 
7. On her supposed relationships with DJ Matt Creed, and Drew Barrymore's ex, Justin Long, Ms. Dunst says neither is true. Mr. Creed is just a friend and her reported relations with Mr. Long are "the funniest thing on the planet Earth." she says. "I don't know him from Adam. I met him once, and he and his friends were kind enough to walk me home. I've never seen him since." Um, right. 
8. She feels safe at the Beatrice Inn. "They keep people out who will write stuff and blog about it. But I'm not going to go there if what I do is written about. I'm very aware. I'm like an eagle eye," she says. "I'm not free as a bird [when I'm there], but I love to dance. And I literally have gone up to people and said, 'Did you just take my picture?' I have to protect myself."
9. Ms. Dunst is considering selling her L.A. home to move to New York full time this fall.
10.  But eventually, "I can't wait to have kids one day. I want to have kids and a farm with lots of animals on a lake." Sounds nice!