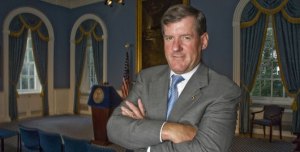 Location: The financial industry is changing before our eyes. What's your outlook for the city's economy in the short term and midterm?
Mr. Lieber: There's no question that this is unprecedented in any kind of shape for Wall Street since the '20s. So we've never seen anything this bad, at least not in a long, long time. But having said that … around the economy, our unemployment rate is still relatively low—5.1-ish percent right now—which is up a little bit. Our tax collections going forward are on target so far, though we still are fearful about some of that declining.
 
Are we too dependent on Wall Street overall? Have we gone far enough in diversifying?
In this kind of market, you'd say we haven't gone far enough in diversifying, but I think it's a good thing we did diversify when we started six and a half, seven years ago. I think there's still more to do.
 
On Willets Point, you wanted to get a developer selected before you leave office in '09. Why do that in such a sour economy?
We're entering the market now with the view that we're actually going to have construction three, four, five years from now, but these are projects that are going to be decade-plus projects. So they're going to go through a number of cycles, so in some respects it's probably better timing now.
 
You're up for Council approval in two months [on the proposed Willets Point redevelopment]. How do you think you're faring on that right now?
We've made very good progress with the landowners. We have a lot more progress that we need to make, but the level and the intensity and frequency of negotiations is going quite significant here; and I think there's an open attitude from both sides. I think many of them support this—they won't say so publicly. … We're very optimistic.
 
On Moynihan Station, Governor Paterson wants to get the whole Penn Station redevelopment plan moving through the Port Authority. The idea's been around since David Dinkins was mayor. Do you have any more optimism that it will get enough momentum now under this governor?
We wholeheartedly endorse the governor's plan to do this in a way that expands transit capacity in that area, because it's so critical. It's vital and critical to the long term.
 
Do you think that can get moving sufficiently in the next year and a half, two years?
Yes. I think it's a good vision, and I think it helps really cement the benefits to the region in general, in the area in particular, in the country, even. So I think we can expect broader support from the public sector.
 
With Atlantic Yards, the developer wants more subsidy to build an arena and housing complex in Brooklyn. Is the city open to that?
We look at Atlantic Yards as an important project, and one of the things that we try and do in accommodating future growth is to try to do it around transit nodes, and that's a prime transit node there, so we're very, very supportive of getting that project under way. There are a number of ways we're trying to help them do that. Obviously, we have budget concerns and budget issues that we have to be very mindful of.
 
Do you think it will ever be built out in full, to 6,400 apartments?
Sure. What I would say is that we want to create the conditions so that can happen. The market will determine when that happens.
 
On the West Side, how much do you expect the extension of the No. 7 train is going to cost?
Less than $3.5 billion.
 
But more than the $2.1 billion that's budgeted?
I don't know. We have $2.1 that's budgeted. We've let contracts for 60 percent of the work so far; it's been right on budget. We have to let the second contract here. We'll see where that ultimately comes out. Right now, we don't see anything even close to the $3 billion for the total cost. That includes the next extension and the park [that runs north from 33rd Street by 11th Avenue].
 
Have you reached an agreement with the M.T.A. on cost overruns for the No. 7?
No.