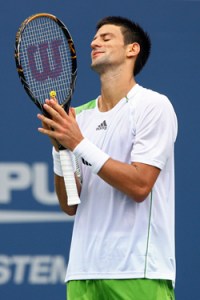 New York can make you, and it can ruin you. Fast.
Case in point: Novak Djokovic.
Last year, in his two weeks at the Open, Djokovic transformed himself, on our stage, before our very eyes, from a gifted-but-little-known Serbian up-and-comer into a full-fledged star. Yes, it had much to do with his daring, nerveless play, but it was more than that.
Robert De Niro and wife Grace Hightower sat in the Djokovic player's box during his Open final against Roger Federer; they treated him to dinner at Nobu during the tournament and at Wakiya after he lost the final. Maria Sharapova cheered him on every step of the way, and rumors started running high that they began dating at the Open.
He was a total stud.
"To get, you know, American people behind you, especially a crowd here in U.S. Open, is not so easy," he said last year. "Obviously they like my character on and off the court."
That was last year. By the end of his run at the 08, U.S. Open all that good will was lost.
After he lost to Roger Federer in the semis, The New York Post called him a "villain," the New York crowd began booing him. When he was asked about what he would take away from the tournament, he bristled.
"Well, look," he said, "I just want to forget some things, you know, as soon as possible."
Oddly, it was nearly all self-inflicted.
On Thursday night, in a quarter-final match against Andy Roddick, Novak Djokovic won a tough, hard-fought match in four sets.
Naturally, most of the crowd support belonged to the American, Roddick. Rather than acting graciously in defeat, Djokovic used his post-match on-court interview as a way to exact some revenge on Roddick, who had poked fun at Djokovic for making a meal of various unspectacular physical ailments.
"Well obviously, you know, Andy was saying I have 16 injuries after last match, so obviously I don't, right?," said Djokovic in the very public interview.
The boos began to rain down, but Djokovic wasn't fazed.
"Like it or not, it's like that," he said.
The USA anchor Michael Barkann tried to get him out of it, but Djokovic dug himself deeper.
"Well, I know, they're already against me because they think I'm faking everything, so it's alright." he said.
He wasn't quite done, but that was that.
"That's not nice, anyhow, to say in front of this crowd that I have 16 injuries and that I'm faking it," he went on.
"He's a professional and he knows he's got to pay the consequences for his behavior, good or bad," said his agent Benito Pérez-Barbadillo after the match.
And he would.
When he came out for his match yesterday against Roger Federer, the crowd was completely against him; at one point, when someone shouted something just as he was about to serve, he threw up his arms in an expression of exasperation, if not something stronger.
There was a way to handle this. Roger Federer, who beat Andre Agassi in back-to-back Opens in 2004 and 2005, and then beat James Blake in 2006 and Andy Roddick in 2007, found a way to stay popular, or at least reasonably well-liked here. This year, he's become a sentimental hero in a way that Agassi or Sampras did.
Still, it's a particular wonder that Djokovic now finds himself in this situation.
The anticipation was so high again for him this year that when he strolled onto the rooftop of the Empire Hotel on West 63rd street the Friday night before the Open at a Heineken-sponsored tennis party packed with celebs, he was treated like royalty. Party-planners told him how they were waiting for him to arrive all night, and how he must get a stamp so he could go into the VIP-section; and a Maria Sharapova-handler said that she was asking for him all night.
Then again, maybe we knew this would be happen. Last year, when Djokovic was just emerging, the veteran Times columnist George Vecsey warned me that the Djokovic adoration wasn't a permanent phenomenon.
"He'll get bored with it after a year," he said. "It's refreshing right now because it's so new, but then he'll get bored with telling the same life story over and over again.
"He won't be as funny or expressive," he continued. "All it'll take is one bad experience."