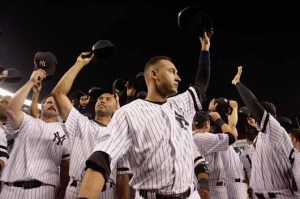 It wasn't supposed to end like this.
For a stadium that had witnessed so much, from countless no-hitters and perfect games, to more championship banners than any other major professional sports franchise, the end was supposed to come late in October, a final out squeezed by Derek Jeter to make the Yankees champions.
Instead, the final game at Yankee Stadium, a 7-3 win Sunday night against the Baltimore Orioles, only delayed the single Yankee loss or Boston win that would eliminate New York from postseason contention.
So with the game a planned anti-climax, a part-celebration, part-wake ensued in the hours leading up to the scheduled hourlong pregame celebration. Dave Winfield walked across the area behind home plate to massive cheers. This was fitting, somehow, considering that Winfield had been memorialized as "Mr. May" by Yankees' owner George Steinbrenner. Winfield had hit .045 in the 1981 World Series. This year marks the fifth straight season that the Yankees will not advance to the World Series, and the first playoffs since 1993 without Yankee Stadium as a site. This season, Alex Rodriguez won't get the chance to surpass Winfield's postseason futility.
No, Sunday night wasn't about the present. It wasn't even about the future, with so many of the Yankee young players having come up lame, physically or in their performances, in 2008. Joba Chamberlain did make an appearance, of course. But normally he provides the excitement—Sunday night, he was an afterthought.
Seemingly every bit of Yankees championship history was commemorated during a pregame ceremony that lasted almost 90 minutes. The oddest bit of it came first. Yankee radio announcer John Sterling, who served as co-emcee with TV's Michael Kay, promised to "bring back to life some of the legends" that had played for Yankee teams of yore.
The Yankees trotted out, and announced them one-by-one, the 1923 New York Yankees. All dead, you say? No matter! Actors supposed to be members of that lineup ran out of the bullpen, one after another. The loudest cheers for any 1923 Yankee came for "Babe Ruth," who wasn't even a bit chubby. The lineup stood in center field for the remainder of the proceedings, along with "Lou Gehrig," "Lefty Gomez," "Red Ruffing," "Bill Dickey," "Joe McCarthy" (the manager, not the U.S. Senator), "Allie Reynolds," "Casey Stengel," and "Joltin' Joe DiMaggio."
Next, the Yankees moved on to honoring living Yankees and relatives of dead ones, by position. First a select number of Yankees were honored on the scoreboard with video tributes, then most of them were announced again and walked onto the field.
The recent past was more impressive to the fans than being great long ago. Scott Brosius, a defensive specialist who turned in some big performances for the late-'90s Yankees, got bigger cheers than Alex Rodriguez, not to mention Red Ruffing and Graig Nettles. Babe Ruth—in the House he Built!—was received less warmly than Paul O'Neill. Joe Girardi got a similar reception to Yogi Berra's. And Joe DiMaggio and Mickey Mantle were no match for the triumphant return of Bernie Williams.
Babe Ruth's daughter then came onto the field to throw out the first pitch.
Now it was 8:15. That must be the end of the pregame ceremony. But no! Derek Jeter came onto the field with his family to receive a Waterford crystal bat to commemorate his passing Lou Gehrig for the most hits ever in Yankee Stadium. John Sterling referred to Yankee Stadium as "the greatest stadium in all of sports." (Kay preferred the term "cathedral," multiple times.)
Start Me Up by the Rolling Stones began playing at 8:24—was the game at hand? No, more interviews—the song quickly cut off. Suzyn Waldman pulled Reggie Jackson aside, and surprisingly, Reggie wanted to talk. Waldman asked about the Yankee Tradition.
"It's something that continues on and on," Jackson said. How right he was. Mickey Mantle's son was next, and first pitch wasn't until 8:36. By then, the press box had largely emptied out. The 2008 Yankees were no match for an interview with Babe Ruth's daughter.
A little over three hours later, the game ended. Yankee fans could briefly pretend they were still watching the championship years—Andy Pettitte got his 95th Yankee Stadium win, Mariano Rivera got the last three outs, and Derek Jeter left to a huge ovation with two out in the ninth. An instant later, Yankee players began collecting souvenirs from the field, and then, finally, it was over.