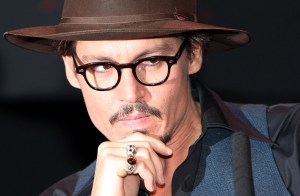 The lure of green screens and worldwide box office success has finally gone to Johnny Depp's head. Disney announced yesterday that one of the world's most brooding actors will star in a trio of films for the company: In a fourth (fourth!) Pirates of the Caribbean movie, Mr. Depp shall reprise his role as Captain Jack Sparrow; in Tim Burton's Alice in Wonderland, a motion capture spectacle that will surly feel like an acid trip, he'll play the Mad Hatter; and in the Jerry Bruckheimer produced Lone Ranger, Mr. Depp will take the role of sidekick Tonto (natch).
What's going on here? Call us crazy, but we remember a time when Johnny Depp actually made movies, and not just giant gimmicky FX spectacles based on theme park rides and television shows. When Mr. Depp made the first Pirates of the Caribbean movie, everyone loved it and him. What a novel concept it was! A real actor taking his craft and using it to improve upon a genre effects film. The results were wonderful. The first Pirates film is a gloriously entertaining romp, but the last two were exponentially more terrible. In fact, the third one was so disjointed and confusing, that, to this day we still don't have a clue as to what happened.
We had thought Mr. Depp's diversion into action star land was over. He's playing John Dillinger is Michael Mann's Public Enemies and will also appear in Mira Nair's next film, Shantaram. But after that he's doing another Pirates film and playing Tonto? Think about it: he'll be locked into the House through 2011! We appreciate that the man wants to get paid, but it feels like there has got to be better projects for one of our best talents (though, we are kinda psyched about a Burton/Depp Wonderland).