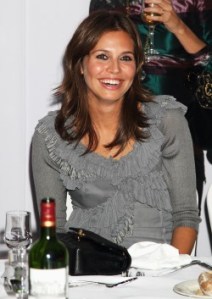 Richard Fuld Jr., the chairman and chief executive officer of Lehman Brothers, owns a primary home in Greenwich, Conn. with an indoor squash court, a $21 million Park Avenue co-op, a home in Vermont, another one on Sun Valley, Idaho, and another one in Jupiter Island, Fla., for which he paid $13.75 million in 2004, according to the Wall Street Journal.
But now that Mr. Fuld's company has filed for bankruptcy, he and wife, Kathy Fuld, are trying to find ways to cash out like the rest of the city. And while they will not be selling any of those fancy homes (yet!), they will auction off their highly prized modern art collection. In early August, the Fulds reportedly put up 16 postwar drawings for sale at Christie's. The auction house wouldn't confirm the identity of the sellers to WSJ, but revealed that the works are worth between $15 and $20 million, and include drawings by Arshile Gorky, Willem de Kooning, and Barnett Newman.
While Mr. Fuld continues to arrive at his corner office on the 31st floor of Lehman's Midtown Manhattan headquarters every day, his net worth has plummeted significantly. (In February 2007 his shares of the company were worth $86.18; today they trade for 33 cents.) The journal also notes that while Mrs. Fuld is a well-known art collector and Museum of Modern Art Trustee, she is not known for selling works of art.
(Former Lehman President Joe Gregory has also reportedly been selling off his assets, placing a $32.5 million Hamptons home and another one in Vermont on the market, and selling a private helicopter that he used to commute to work every day from Huntington, N.Y.)
With most of Manhattan scrambling for financial safety right now, one might ask just who has the means to buy such works of art, if the president of Lehman Brothers cannot afford to hang on to them. The answer is hardly surprising: the Europeans.
The Fulds will reportedly take their collection to bidders in Moscow and London before bringing them back for an auction in New York on Nov. 12. All of which makes us wonder if the Fulds might have their eye on two particular bidders who split their time between London and Moscow: Russian billionaire Roman Abramovich and his girlfriend Dasha Zhukova, a designer of the label Kova & T (worn by Mary-Kate Olsen and Kate Moss), who has also recently opened an art gallery in Moscow called The Garage with her boyfriend's help. The gallery's soft opening in June, attracted notable names like Ronald Lauder, Larry Gagosian, Barbara Bush, Steven Cohen and Jeff Koons and earned her profiles in the Times, WSJ, and The Guardian. (The opening of Mr. Gagosian's Moscow-based gallery's exhibition titled "for what you are about to receive" on September 17, which Paul Sevigny DJed, was also attended by high-profile guests like Takashi Murakami, Natalia Vodianova, Patrick Demarchelier, Leelee Sobieski and  and Vito Schnabel.)
According to the Times profile of Ms. Zhukova, her arrival at Art Basel in Switzeland with Mr. Abramovich this past year got more attention than that of Brad Pitt or Sofia Coppola. Mr. Abramovich has also made headlines by purchasing a Degas for $26.5 million, a Francis Bacon triptych for $86.3 million, and a painting by Lucian Freud for $33.6 million in recent auctions. And so it is hardly a stretch to imagine that Mr. Abramovich–who also paid Amy Winehouse a reported $2 million to perform at his girlfriend's gallery's opening–will buy her some pretty drawings from the chairman of Lehman Brothers.
And with Russians taking over the real estate market in New York, it is no surprise that Manhattan's art market is next.