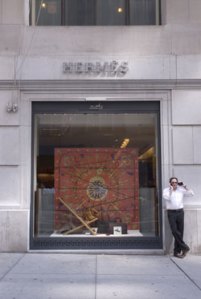 Ask anyone around Wall Street these days: Are bankers still buying ties? Inevitably, someone will respond, "What, to hang themselves?"
"Isn't this a cool tie?" gushed an eager saleswoman at the chic Hermès boutique at 15 Broad Street, conveniently across from the New York Stock Exchange.
It was a lustrous, sky-blue tie, made of 100 percent silk, with undulating aqua-colored oval shapes and tiny gray floral patterns. (And it would just look great with my jacket, she added.)
This tie was something unique, she explained, the only one of its kind across the entire 4,000-square-foot selling floor.
Turned out someone else had returned it earlier that day for a refund. Store policy: "[R]efunds are given as merchandise credits only, provided the merchandise is returned in its original condition, with proof of purchase and within 10 days of date of sale."
Store credit—heck, any credit—sounded pretty good amid the meltdown on Wall Street last week.
"Here, try it on," she said.
There were more pigeons (two) perched above the hallowed Hermès sign out front than customers (me) browsing the posh shop around 2 that afternoon, Sept. 17.
The swanky store had all the hustle and bustle of a Capitol Hill luncheonette in August, with rather bored-looking, albeit dapperly dressed, salespeople quietly minding the store: some of them folding, unfolding and refolding silk scarves; others just quietly chatting en francais in the back. One guy with a clipboard was walking around, taking inventory.
WHEN IT FIRST opened last year, Hermès sparked a lot of excitement.
The first super-high-end retailer to move into the once decimated Financial District in decades, it was heralded as ushering in a new era in downtown commerce, prompting other prominent luxury brands, including Canali, Tiffany and Thomas Pink, to similarly set up shop in the neighborhood.
Retail rents reportedly soared up to 200 percent in the surrounding area.
The Real Estate Board of New York dubbed it "the deal that Most Significantly Benefits Manhattan" for 2007.
It was a revolutionary deal for Hermès, as well. The 171-year-old French company took advantage of the unique location, cast aside its traditionally feminine storefront displays of silk scarves and elegant handbags, and instead put the spotlight on men's wear.
An entire wall of Hermès ties, perhaps the most coveted (and expensive, starting at $170 a piece) neckwear in the world, in a multitude of colors, geometric patterns and virtually any animal prints you can think of—dolphins, elephants, lizards, monkeys, kittens, even winged reindeer—was placed front and center, just inside the entrance, in a glaring attempt to catch the eyes of passing finance guys with ego to boost and money to burn.
Robert Chavez, president of Hermès USA, claimed immediate success upon the store's unveiling in June 2007, proudly boasting to men's fashion magazine DNR that the initial crowds stood "two deep at the tie wall."
"I mean, why didn't they think of that earlier?" one prominent downtown developer recently remarked to The Observer. "Every banker wants a Hermès tie."
That was before the Sept. 15 collapse of venerable investment firm Lehman Brothers, of course, when scores of bankers—a full body count yet to be tallied—suddenly faced unemployment. That, coupled with the fire sale of Merrill Lynch and teetering condition of enormous insurer A.I.G. (and lingering memories of Bear Stearns' March implosion), sent the Dow plunging more than 500 points.
The ripple effects were felt almost immediately across the street.
For two straight days, no one seemed to care about fancy neckwear, as throngs of reporters and TV crews piled into the pedestrian plaza outside to cover the economic carnage.
But by Wednesday, Sept. 17, "the vibe had changed," according to the hustling saleswoman at Hermès.
The night before, the federal government announced an $85 billion bailout plan to rescue ailing A.I.G., and consumer confidence seemed to be returning. The Dow finished up 161 points. In the morning, she even sold a few customers some ties, adding, however, "I don't know if they were bankers."