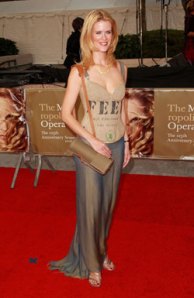 Irina Aleksander asks the tough questions at the Metropolitan Opera's Opening Night Gala: Will New York's benefit scene suffer because of the Wall Street meltdown? Julie Macklowe says yes! But Real Housewives of New York City's Alex McCord says, "Cutting back is self-defeating." Mmmkay!
Ms. Aleksander also infiltrates a very exclusive subset of the city's young social set: the headband girls, led by suddenly-everywhere 19-year-old Brit Peaches Geldof (she's married, lads, so stay away from her headband!).
Meanwhile, George Gurley heads to Doubles, the club in the Sherry-Netherland, which seems to be one of the few places in the city impervious to doom and gloom. It's where Debbie Bancroft's hubby first told her he loved her!
And we borrow the Media Mob's Matt Haber for the night to send him to the memorial service for Clay Felker, where his old friends like Tom Wolfe, Gloria Steinem, and Lesley Stahl gathered to remember the New York magazine founder.