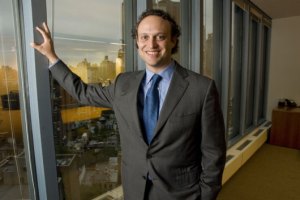 Location: Since you bought Harlem's Delano Village, now called Savoy Park, in 2006, how many of its 1,800 apartments have been deregulated?
Mr. Rubler: None. Or, under 10. I mean, occasionally, an apartment will achieve a legal rent that's over $2,000, which, at least under today's regulations, means that it's technically deregulated, but it's never a part of our business plan to deregulate apartments. Specifically, it's part of our plan to keep 100 percent of our apartments within rent stabilization.
 
The New York Times reported that last year when you refinanced Savoy Park, it was underwritten for an ultimate cash flow of $19.1. million, but the current cash flow is $4.3 million. How are you going to achieve those sorts of revenues?
I'm not confirming those numbers. Because neither of them, I think, are correct.
 
Are they in the ballpark?
No. We were not interviewed for The Times article [Editor's note: according to the article, Vantage declined to be interviewed]. Candidly, I don't feel comfortable providing information that's confidential in nature. But to answer your basic question, of how do we increase the cash flow of our buildings, as has always been the case in New York residential real estate, rents inflate over time. By looking at our buildings from a long-term point of view, when an apartment vacates, we are going to be going in and improving that apartment and improving the building that the apartment is in, and in the case of Savoy, improving the grounds on which that buildings sits.
 
At Savoy Park?
At any of our properties. Our business is specifically targeted at building and redeveloping and providing high-quality affordable housing. … There's no concept within what we're about or within our business plan to convert units to quote-unquote market units.
 
Sorry to keep referring to The Times, but an earlier article reported that Vantage projected a natural apartment turnover rate of 10 percent a year, but that on average, citywide, the attrition rate is 6 percent. Was that 10 percent number correct?
No.
 
Where did they get their info?
I don't know. Not from us. We have never projected turnover of 10 percent a year, and I can say emphatically it will never be 10 percent a year. That number is grossly overstated. Turnover in the city is, in our view, much closer to 5 percent a year. …
 
They were referencing, I believe, S.E.C. filings.
O.K. Well, then, I won't answer that question on tape.
 
Is that possible?
It is possible. But that, I think, has been misconstrued.
 
Are numbers often inflated when people file things with the S.E.C.?
Well, we never filed anything with the S.E.C. The filing I think they were referring to was a filing I believe was made by our lenders and is a filing I never saw.
 
Now, you've gotten a lot of criticism from Benjamin Dulchin, of the Association for Neighborhood and Housing Development. Am I mispronouncing his name?
No, I don't think so. I only spoke to him by phone once.
 
Oh, yeah? How did that go?
I asked him for a meeting because I wanted to understand the basis of his concerns. He would not meet with me. He declined the meeting.
He's been quoted as saying that 'Predatory equity is undermining the best efforts of New York City and state elected officials to slow the loss of affordable housing.' It would seem there's some truth to that statement.
There's no truth to that statement in regard to our business. … I've done a lot of thinking in prior lives about companies that were very successful and very focused on the idea of improving quality of life for middle-income consumers, by continuously re-engineering their processes, bringing together economies of scale, better operating practices to therefore offer a better and better product to the consumer at a lower and lower price.
There are examples from Wal-Mart to JetBlue to Toyota, where every manager on the Toyota production line every day is thinking about how they can build a car better less expensively, so Toyota can then sell that car to a middle-income consumer at a price that they can afford. This is a concept that is so well ingrained in so many different areas of industry these days [but] never even remotely discussed in affordable housing
in this city, which is the largest affordable housing market in the country. So we thought there was a tremendous opportunity for us to come in and totally rethink the way that we're managing our buildings. So, for example, many of the people from whom we buy buildings accrued huge numbers of Buildings Department violations because they view it as in their best interest to not make repairs in their tenants' apartments when their tenants have issues.
 
Now, you purchase these buildings and you have to determine, like Tishman Speyer is doing at Stuy Town, who is a legal tenant and who is not, a process that often leads to accusations of harassment.
Well, it often leads to harassment, and sometimes to unfair accusations of harassment. … The most fundamental realization we came to as a company is that the one thing for sure that litigation does is detract from our primary objective, which is the customer service objective. … Our system internally is structured such that litigation is absolutely, 100 percent the last resort. … I think that the most fundamental misimpression that people have when they critique us, as Mr. Dulchin did, is that they don't understand that we are the single biggest advocates for affordable housing they can find. Our business will be successful if we can provide very high-quality homes [for the] people they claim to represent, and it is ridiculous to assume that the only way for affordable housing in this city to be protected is to run buildings the way they have been run over the past 50 years, depriving people of services, neglecting the physical defects in a building, letting the heat go off for days on end in the winter, not providing elevator service.
 
You are a businessman. You are not HPD, you are not HUD, you have to bring a profit back to your investors, and to do so, you do have to make sure that those apartments that are renovated are then rented out at a different level of affordability.
That's true.
 
Which can change slowly the nature of a community.
I think that it is never a goal of our business plan to change the nature of a community. The communities in which we operate have been mixed-income communities since time immemorial. … The key to solving the affordable housing availability in the city is to develop the technology and the competency to manage apartment buildings better. To the extent that owners, as we do, can take advantage of professional management, of economies of scale, to avoid waste and make repairs once that will prevent problems from reappearing three or four times, or worsening, we can make the dollars go so much farther. If we really do our jobs well, as Wal-Mart did in retail, for example, we should be able to provide our customers with better and better quality housing at lower and lower prices as time marches on. And, if we can do that, we may well get to the point where a landlord can make a profit on an apartment and still charge that $800 a month.
 
But isn't the difference between real estate and Walmart that in New York City, every time a building is turned into luxury apartments—and I know your firm does not do luxury apartments—there is no shortage of people who can afford them?
Our market is not a market that's attracting people that have open checkbooks.
 
Have you ever lived in a rent-stabilized apartment?
Yes. My first apartment in New York was a rent-stabilized apartment.
 
Where was that?
200 East 87th Street.
 
How much were you paying?
About $1,200, I think.
 
That's somewhat expensive.
It was. It certainly felt that way at the time.
 
Surely, there are few things more politically fraught than investing in affordable housing. Did that enter into your calculations?
I'm starting to feel like a glutton for punishment.
drubinstein@observer.com