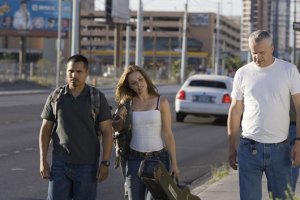 The Lucky Ones
133 minutes
Written by Neil Burger and Dirk Wittenborn
Directed by Neil Burger
Starring Tim Robbins, Rachel McAdams, Michael Peña
Movies about the war in Iraq are box office poison. Perhaps wisely, writer-director Neil Burger's new film, The Lucky Ones, is not about this unpopular war, but about the people who are fighting it. The action does not take place on the frontlines, but on the American home front, which turns out to be every bit as treacherous. The emotional scars and incendiary fallout are equally painful; it's just a different kind of shrapnel.
The "lucky ones" are supposed to be the soldiers who come home in one piece. This movie centers on three in particular—three strangers with nothing in common but what they've shared in combat. Sgt. T. K. Poole (Michael Peña), Pvt. Colee Dunn (Rachel McAdams) and Sgt. Fred Cheever (Tim Robbins) meet on a plane from Germany to J.F.K. T. K., who is on his way to meet his fiancée, afraid to tell her he's been rendered impotent by mortar fire; and Colee, still in mourning for a boyfriend who was killed in action and carrying his guitar home to his family in Las Vegas, are both on 30-day leave. Cheever, who is heading for a coveted reunion in St. Louis with his wife and son, suffers from a back injury that has cut his tour of duty short and indeed ended his military career permanently. All of them have their sights set on the joys that are waiting for them, but when an electrical blackout at J.F.K. grounds all of their connecting flights, they pool their resources and rent a minivan, planning to drop off Cheever first. Snafus ensue in spades.
To his shock, Cheever finds himself laid off from the old job he thought was waiting for him, with his company closing down, his wife demanding a divorce and his teenage son indifferent to his father's problems and war injuries, concerned only about the money for his college tuition. He's the only one with a real home, but his home life is anything but stable, forcing him to look inside himself for strength. When his sympathetic comrades turn out to be his only friends, their original one-day drive expands into a cross-country road trip through the red states, where they stumble upon a microcosm of the American heartland: a bizarre redneck church service in the Midwest; a barroom brawl; a high society ball; a clinic where the nurses are too busy to dress Colee's recurring war wounds even though she's fighting for their country; a freak tornado; a picnic in the Rocky Mountains with a group of hookers who chip in to cure T. K. of his impotence. Nothing is what they expected from their homecoming, and at each destination on their map, disappointment waits like an ambush. Instead of heroes, they are treated like curios. A group of women mock Colee's blue-collar status, which she thought she had given up for the dignity and respect of a uniform; another woman seduces the confused, devastated Cheever at a party because she wants to see what it feels like to have sex with someone who fought in Iraq. Narrowly avoiding death, sharing emotional support and medical knowledge, they discover the only place to be safe is back in the war, where you know where you stand, the enemy is clearly defined and everyone shares the same goal—to be one of "the lucky ones" who survive.
In Toronto, where The Lucky Ones premiered, some critics groused that the tone of the writing and direction is too lighthearted for the daunting problems the characters actually face, but I disagree. It is not Mr. Burger's focus to show the truth of what war is really all about, but to show why some soldiers would rather serve and fight and risk their lives for the only cause they know than return to the ignorance and sarcasm of fat, privileged civilians who criticize them for enlisting in the first place. True, some scenes seem to exist for the sole purpose of stretching the film to a decent feature-film running time. But even when it feels contrived, The Lucky Ones is enhanced by Mr. Peña, Ms. McAdams and especially the terrific, always surprising Mr. Robbins, in performances so likable and well timed they carry you aloft, like a flag.
rreed@observer.com