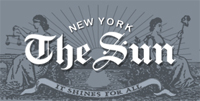 The New York Sun published a story today that quoted ex-politicians and a few semi-retired journalists saying that it would be a terrible thing if the newspaper closed later this month. In his first public interview since resigning, Eliot Spitzer says, "The Sun has been a spectacular addition to the city's political discourse and is one of the finest papers in terms of editing, writing, and analysis that one can find anywhere." (The Sun was one of the few outlets sympathetic towards Mr. Spitzer when he found himself engulfed in scandal in March.)
Also quoted:
Mario Cuomo
George Pataki
John Bolton, former American ambassador to the UN
Philippe de Montebello, the outgoing director of Metropolitan Museum of Art
Peter Kann, former publisher of The Wall Street Journal
Sir Harold Evans, former editor of The London Times
Peter Osnos, former editor at The Washington Post
Nat Hentoff, columnist for Village Voice
The paper still, however, needs to find money.