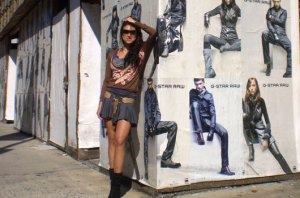 "So this is what all the fuss is about," said alluring restaurateur Danae Cappelletto, standing in the plywood doorway at 19 Kenmare Street in Little Italy on Monday morning.
"You'll have to use your imagination," she added, as the two-level, roughly 2,800-square-foot space has sat empty for more than a year—and yet, so full of controversy.
Ms. Cappelletto, 27, is the third brave soul to attempt to do something with the site—which formerly housed longtime neighborhood institution Little Charlie's Clam House—but only the first of them to so far survive the regulatory gauntlet that opening a downtown restaurant, or any business that serves booze, has lately become.
"It's like a gladiator sport," said Ms. Cappelletto, who repeatedly faced off with hissing, banner-wielding protesters in recent weeks in a desperate attempt to garner public support for her planned Mediterranean-style eatery, called Travertine.
She picked the long-embattled location—against her attorney's advice—partially because of the open floor plan, which lacked the annoying nooks and crannies of other restaurant spaces, she said.
The planned eatery, which she aims to open in January under the direction of a soon-to-be-named chef whom she would only describe as "a superb seasonal food master," has been a longtime dream for Ms. Cappelletto and her elder brother and business partner, Dustin Cappelletto, 29, who works in finance. The pair hail from Australia, where Ms. Cappelletto once managed the Est. restaurant in Sydney's Establishment Hotel.
"Since we were kids playing Monopoly, we always wanted to do something like this together," Ms. Cappelletto said.
Passing go, in this case, would require a very lucky roll of the dice.
A slew of allegations has been lobbed in the Cappellettos' direction, including their purported violation of the oft-cited 500-foot rule, which adds an extra layer of scrutiny to aspiring liquor sellers in areas already served by three or more booze-slinging venues nearby.
"There's only one other restaurant on Kenmare," Ms. Cappelletto pointed out. No matter. Her opponents counted more than 20 on neighboring streets. "Everything up to Eighth Street was on that list," she joked.
"They even tried to criticize us for things that they pinned on the landlord," she added, "saying that he had evicted tenants out of the building to put our restaurant in, which is completely false."
Ms. Cappelletto probably should have expected the smears. "My apartment being just there," she said, pointing westward down the block, "I used to get the fliers from the community objecting to Forty Deuce."
She was referring to the ill-fated burlesque club proposed for the same site last year by Los Angeles-based entrepreneur Ivan Kane. Faced with similar, if not more vehement, protests, Mr. Kane abruptly abandoned his plans last October and high-tailed it back to Hollywood. (A second planned restaurant deal for the space also subsequently fell through.)
"I think Forty Deuce was misrepresented," Ms. Cappelletto said. "It's not a strip club—it's burlesque, which is really old-school New York, you know?"
On one occasion, Ms. Cappelletto herself was publicly accused of acting as Mr. Kane's covert operative, to put it mildly.
Not wanting her own hospitality vision to be compromised by the neighborhood mob, Ms. Cappelletto, alongside her elder brother, headed into public meetings armed with extra firepower.
They hired a lobbyist.
"They felt they might need a little help," said Mark Thompson, vice president for real estate advisory and business development at Capalino + Company, a downtown government and community relations firm, whose roster of high-powered clients includes RJ Reynolds and the Hearst Corporation.