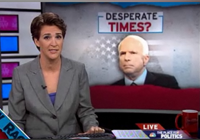 On Monday, TV Newser looked at the success that Rachel Maddow's new show on MSNBC has enjoyed over its first two weeks:
Last week the program was #2 in cable news in both the A25-54 demo and in Total Viewers at 9pmET, beating CNN's Larry King Live. FNC's Hannity & Colmes was the top-rated broadcast at 9pmET. On Friday, Maddow's was the #1 show in the demo at 9pmET topping a Hannity-less H&C.
In the two weeks since Maddow took over the 9pmET slot, the program's nine shows have averaged 556,000 demo viewers and 1.6M Total Viewers. Maddow's averages are more than double the final two weeks (eight shows) of Verdict with Dan Abrams (225,000 demo / 601,000 Total Viewers.)
Will the ratings success continue? Who knows. But the media's interest in Ms. Maddow shows no sign of flagging.
In The New York Times today, Alessandra Stanley offers a semi-favorable review of the Rachel Maddow Show, which she describes as "less a show than an annex" to Countdown with Keith Olbermann.
On the plus side:
Her program adds a good-humored female face to a cable news channel whose prime time is dominated by unruly, often squabbling schoolboys; Ms. Maddow's deep, modulated voice is reassuringly calm after so much shrill emotionalism and catfights among the channel's aging, white male divas.
On the other hand:
Like Mr. Olbermann, Ms. Maddow provides viewers who are appalled by the likes of Mr. O'Reilly and Sean Hannity with a reassuring mirror of their own views. Like Mr. O'Reilly and Mr. Olbermann, Ms. Maddow prefers to confront guests she already agrees with. Mr. O'Reilly often turns to Dick Morris and Dennis Miller for analysis of Democratic doings; Ms. Maddow has called upon the Missouri senator Claire McCaskill and the comedian Bill Maher to interpret the Republican position. … And that kind of echo chamber doesn't make for very interesting television.
Over at the American Prospect, Sam Boyd breaks down Ms. Maddow's success and writes about what lessons might be learned by other liberal commentators.
From the article:
She has succeeded as an avowed liberal on television precisely because she is not a liberal version of conservatives like Sean Hannity and Glenn Beck. Unlike so many progressive media figures who sought to replicate the on-air habits of the aggressive shock jocks of the right, she stumbled upon a workable style for the left. She is liberal without apology or embarrassment, bases her authority on a deep comprehension of policy rather than the culture warrior's claim to authenticity, and does it all with a light, even slightly mocking, touch. She proves that liberals can attract viewers on television when they actually act like, well, liberals.
Elsewhere, Inside Cable News tees off on MSNBC's decision to have Ms. Maddow host MSNBC's coverage of President Bush's national address on Wednesday night.
You gotta be kidding! After all the crap the network had to go through over the Olbermann/Matthews fiasco, and the subsequent annointment of David Gregory as point man for MSNBC's politics coverage, tonight we have Maddow anchoring MSNBC's coverage of a national news event.
Yes, the address is occurring in the middle of Maddow's hour. But appearances are everything for MSNBC these days and the appearance of yet another ideological talking head anchoring MSNBC's news coverage says a lot about what NBC's priorities really are. To quote Pete Townsend: Meet the new boss, same as the old boss.
The Olbermann/Matthews experiment may be over, but the fundamental thinking behind it; namely taking the hot hand and riding it regardless of the appropriateness of such a move, is still in vogue at 30 Rock. If Maddow's ratings weren't hot right now and she wasn't getting all this press you can bet your paycheck that NBC would have put a journalist in to anchor the coverage. This is so blatant it's embarrassing.
And finally, there are some details from Publisher's Lunch about Ms. Maddow's new book deal, which will apparently focus on "how the United States has departed from its constitutional ideals and historical traditions to become a militarist nation, seemingly at peace with perpetual war."