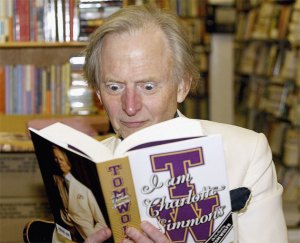 In May, The Observer's Felix Gillette looked at HBO's hiring of former Vanity Fair and New Yorker editor Tina Brown and The New York Times' Frank Rich as "creative consultants."
At the time, he wrote:
Ms. Brown said that since January, she's pitched two projects—an idea for a series and an idea for a movie—that the HBO executives liked and are in the process of 'taking a little further.'… 'If I collide with some interesting material, I'll call or e-mail them. Sometimes it's something I'm interested in doing. Sometimes it's something I think they should know about. Richard wants to encourage people who have good relationships with the creative community to simply be thinking about HBO when they're out and about. It's working out well.'
According to Variety, Ms. Brown is honing in on some of that "interesting material," namely, a series based on Tom Wolfe's four year old novel, I Am Charlotte Simmons.
Variety's Michael Fleming quotes Ms. Brown as saying, "I have always wanted to see 'Charlotte' brought to the screen in all her innocent vitality."
An adaptation of Mr. Wolfe's book could be risky—it sure was for Brian De Palma—but Charlotte Simmons has one very powerful admirer who'll have a lot of free time to watch premium cable starting in 2009.