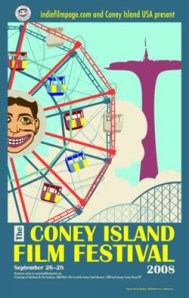 With two straight days of rain ahead of us, we can't think of many things that would be better than spending the weekend watching movies. Films even (hey, it is fall). And lucky us, there happens to be this massive film festival going on. Actually, there are two! If you're interested in some cinematic fare that's perhaps a bit more under the radar, the 8th Annunal Coney Island Film Festival, which kicks off tonight, might be worth checking out. This year's centerpiece is Save Coney Island, a film that documents the past year's worth of efforts to preserve the historic Brooklyn amusement site. Other highlights among the 120 films slated for screening include:
…Airplay, a story of love and war–a struggle between a handful of pioneers versus powerful business and government interests for the soul of music radio, told by the deejays and the artists they made rock stars; Buskers, a one of a kind documentary that goes deep inside the world of street performing; Sideshow Still Alive, tells the story of the world's best sideshow performers of our time, and takes a look at a group of truly independent artists who push the limits of creativity and their bodies for the sake of entertainment.
…the New York Premiere of siblings Tony Torn and Angelica Torn with their feature debut Lucky Days, the story of Virginia and her quest for freedom during the last summer of Coney Island's historic amusement park. Starring Angelica Torn, Frederico Castelluccio, Luke Zarzecki, Will Patton, Anne Jackson, Tina Benko, Marilyn Sokol, Gary Wolf and Rip Torn. CIFF presents the World Premiere of critically acclaimed director Steve Balderson's Watch Out. Starring Matt Riddlehoover (the actor/director and MySpace sensation best known for his award-winning comedy TO A TEE) and co-starring Peter Stickles (Shortbus), B-movie superstar Jeff Dylan Graham, Amy Kelly and burlesque sensation Lady Monster. Based on the controversial novel by Joseph Suglia, WATCH OUT is the story of Jonathan Barrows, a man who falls in love with himself, literally. The festival will screen the 1979 Coney Island classic The Warriors at 10:30pm on Saturday.
A full festival pass will cost you $45, a Saturday pass $15, and a Sunday pass $10. (Prices do not, of course, include the several hours you will have to spend on the F train getting there and back.) More info here.