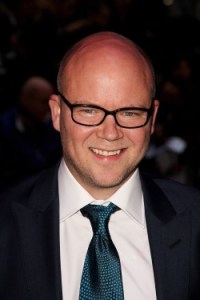 Sunday's Los Angeles Times ran a short profile to remind you that the film version of Toby Young's bestselling 2001 memoir, How To Lose Friends & Alienate People, will be released this Friday. Starring Simon Pegg as "Sidney Young," the movie seems to be a loosely fictionailized version of Mr. Young's failed tenure as a contributing editor at Graydon Carter's Vanity Fair (veiled as Clayton Harding's Sharps) in the early 90's, which was characterized by such ill-advised stunts as "sending a strippergram to a colleague on Take Our Daughters to Work Day and snorting cocaine with bad-boy artist Damien Hirst during a photo shoot."
While incidents like this are certainly more than enough to make for a bestselling memior–particularly with run-ins and tidbits featuring boldfaced names like Tina Brown acting as filler–the piece is careful to mention that Mr. Young's was "hardly a spectacular flameout." Indeed, he left the magazine when his contract expired–he was never even handed a pink slip. He has, however, been riding these ragged coattails ever since, parlaying the whole mess into an editorship at The Spectator and contributing gigs at the Evening Standard and The Guardian, a starring role in the adaptation of his book on London's West End, and positioning himself as an ultimately likable, if somewhat obnoxious, media personality. 
Mr. Young tells the paper: "It wasn't out of any conviction that I had a story worth telling,…I thought I was on this upward career trajectory. And then it all went completely pear-shaped. I really did nothing for five years. Vanity Fair was like a career cul-de-sac. At the end of it, I thought, 'I have to have something to show for those years.' I was determined to extract something from nothing."
But Mr. Carter seems, shall we say, less than amused at Mr. Young's continued antics. In an e-mail to LAT writer Chris Lee, Mr. Carter writes of "his surprise at Young's ability to parlay an undistinguished six-month stint at the magazine into an oeuvre. 'I can only compare it with a brief one-night stand that results in octuplets.'"