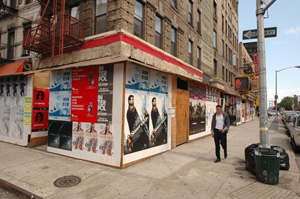 "I think we've broken the curse," said Dustin Cappelletto, co-owner of the forthcoming Travertine restaurant at 19 Kenmare Street, after a divided Community Board 2 narrowly voted 17 to 14 to support the eatery's liquor license during a contentious meeting on Thursday night.
"It's a dream come true," added his teary sister and partner, Danae Cappelletto, who hoped to open the two-level, 2,800-square-foot Mediterranean restaurant in January.
The Cappellettos are the fourth proposed operators to take a crack at the embattled former site of Little Charlie's Clam House.
Hollywood impresario Ivan Kane had initially intended to open an East Coast version of his Forty Deuce burlesque club in the space more than a year ago, before fierce community opposition sent him packing. Barmarche's Chris Eddy next tried to open a noodle shop there. He was initially rejected but ultimately earned community approval, before backing out. Yet another operator later attempted to open a poetry house.
Neighboring residents seemed to protest every idea, noting the vast number of existing booze-fueled businesses in the area — between 18 and 26 of them, depending on whom you ask.
The Cappellettos had enlisted the help of slick community outreach firm Capalino+Company to try and sway public sentiment, but seemed to have given up that effort as of Thursday night.
"No hissing, please!" board chairman Brad Hoylman said, after members of the public taunted Ms. Cappelletto as she spoke at the podium.
A representative for Council Member Alan Gerson noted that his office had been bombarded with so much propaganda from both opponents and supporters of the project that he "hadn't had enough time to digest" it all and figure out where he stood on the issue.
Supporters of the project noted that while there are many neighboring liquor licenses in the area, Kenmare Street itself has very few, and that the dark, mostly boarded-up street could use some illumination of some sort.
The Cappellettos further agreed in writing to install soundproofing, keep windows closed and hire security, among other stipulations.