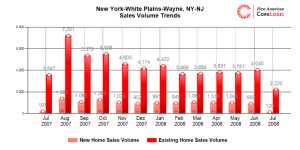 More bad news for New York City area homeowners: Foreclosures are up, prices are down, and sales are slow, according to a report released by First American CoreLogic. In New York City and several surrounding counties in northern New Jersey and southern New York the rate of foreclosure on outstanding mortgage loans was 1.81 percent in July 2008, up 0.77 percentage points from July 2007's rate of 1.05 percent.
Home prices in the area are also down; according to the report, prices fell 7.68 percent from July 2007 to July 2008. The decrease in home prices may have something to do with a significant decrease in home buyers and slower demand, as home sales in July 2008 were dramatically lower than the same period last year. In July 2008 there were only 2,220 existing home sales, compared to 4,040 existing home sales in July 2007.
The figures were even worse for new home sales, where there were only 120 made this July compared with 908 new home sales in July 2007.