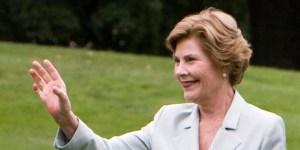 American Wife
By Curtis Sittenfeld
Random House, 558 pages, $26
With American Wife, Curtis Sittenfeld has deftly crossed an extraordinarily high wire: She's written a book in the voice of a someone we all know, and we come out of it thinking not about whether she got it right but rather why it seems here and there just the tiniest bit wrong. This may sound like a backhanded compliment, but I mean it as a straightforward one. A poorly executed version of the novel would grate with each false note, causing you—O.K., me—to scribble furiously in the margins: THIS is wrong, THIS is unbelievable, THIS is stupid. As it is, I read American Wife in just two or three delicious sittings, struck by the granular clarity of the author's descriptions and the down-to-earth believability of the story, bewitched by the charming, frustrating woman at the center of it: Laura Bush.
Well, not Laura Bush. Our heroine's name is actually Alice Blackwell.
Her voice will be familiar to some readers. Not because she so resembles Laura Bush but because she sounds like a female character in Curtis Sittenfeld's other books: the phenomenally successful debut, Prep (2005), or the more mature second novel, The Man of My Dreams (2006). This is not a bad thing, at least, not entirely so.
Those novels feature a certain kind of narrator: She's funny and wry, if usually only in voice-over mode; she's self-aware and shy; she's smart and observant. She is, actually, a lot like Curtis Sittenfeld herself—yes, Curtis is a she—who I had the pleasure of working with during the height of the dot-com boom (she was writing for the breathless way-new-business mag Fast Company, while I was at the too-smart-for-its-own-good online journal Feed Magazine). We met after I'd run across a short story she'd written in a literary quarterly and asked her to contribute to Feed. The story was about a young woman temping in some kind of white-collar office after college; there's an office party and some drunken co-worker co-mingling. The plot of the story is obviously rather ordinary; what struck me was the fine-spun detail: The author—I assumed it was a man—had captured exactly the queasy forced jocularity of what I used to call "mandatory fun," as well as the precariousness of the recent graduate's maturity and the stubborn loneliness of striking out on your own.
Like the heroine of that story, Alice Blackwell is an outsider who understands the insiders better than they do, a silent humorist whose best lines are reserved for herself (or those who can see inside her head), an aching romantic who's constantly reminding herself of reality. Which could be just what Laura Bush is like.
Here's the biggest difference between Alice and Laura: Laura's former good-old-boy, now right-wing conservative husband was the scion of a leading family from and governor of Wisconsin, not Texas, before he was president. The list of what the life portrayed in the book has in common with Laura's is longer: Alice is a former librarian who accidentally killed her boyfriend in high school—a bit of biography that, thankfully, narrows the possibilities precipitously. And there's the parent of a soldier in the Iraq war camping out, hoping to have a word with her husband. And there's a manipulative political Svengali, "Hank," who engineers the POTUS' rise to office. Many names and places have been changed to protect the innocent … and the guilty.
GUILT COVERS AMERICAN WIFE like a veil. That high-school car accident, for Alice, is more than a trauma; it sets her course in life: She'll always have something to atone for, and she'll never feel like she can judge anyone. With this conceit, Ms. Sittenfeld has made sense of the central mystery that many feel surrounds Laura Bush: What's a nice girl like her doing with a shmuck like him?
Alice's husband, Charlie, is an oaf and a bigot, and a bit of a drunk and a failure. She loves him, well, because he's him. (And he's apparently fantastic in bed, as we learn with some degree of specificity.) Why she loves him—why anyone loves anyone—is something not even those involved can explain; the question Ms. Sittenfeld hopes to plumb is why she stays with him. It's partially out of penance—she's protective of this boyish, hopeful man-child—and partially out of a belief that by being good, she can make up for what he (and she) have done that's bad.
As Charlie drifts rightward politically, Alice makes out checks to homeless shelters and AIDS hospices. His casual racism is answered with her procuring a scholarship for the granddaughter of their maid. He appoints originalist judges, she quietly tells a morning show that she's pro-choice—she has, in fact, had an abortion herself. And when he invades Iraq, well, that's actually the question at the center of the novel: How do you make up for lost lives? And, second, just as important if not as dramatic: How responsible are you for the lives of others? How responsible is Charlie for the thousands that have died in Iraq? How responsible is Alice for Charlie?
I confess that the answers Alice comes to did not entirely satisfy me. The last few chapters of American Wife are the most speculative of the book, the only parts not grounded in events and facts you can Google. Sadly, they feel that way—less like reality and more like wishful thinking. There will be, no doubt, some people who can imagine Laura Bush taking the same decisive action that Alice does. I only wish I could.
The ending doesn't spoil the novel—in some ways it points out just how complex and elegant the story has been up to then. American Wife succeeds as a fictional Laura Bush biography in part because of the relative opacity of our real-life first lady. She's given signs that maybe she doesn't totally agree with the Bush administration (famously saying that her husband should appoint a woman to replace Sandra Day O'Connor), and her bland good taste and love of reading suggest hidden depths. The novel explores the very real problem of how the Laura Bush we imagine would deal with her situation—or, rather, how she would live with it. Curtis Sittenfeld's answer to the question of responsibility has Alice doing the right thing, the thing that, perhaps, George Bush's critics hope Laura would do. But in Laura Bush's life, as in all our lives, there's no such tidy resolution. We make compromises, and we keep making them.
Ana Marie Cox blogs at time.com/swampland. She can be reached at books@observer.com.